Regular price
$ 9.95 USD
Sale price
$ 7.95 USD
Unit price
per
20% Off
Sold out
Wedding Budget Template (see demo video  below)
Wedding budget spreadsheet to track your wedding expenses. Whether you are planning a wedding on a budget or trying to save money on your wedding, keeping a wedding budget spreadsheet can help with the wedding planning. This wedding budget planner can be used by both wedding planners and those who are planning their own wedding and want to make sure they spend within a certain budget amount. Easy to use Excel wedding budget spreadsheet allows you to set an overall budget amount and then break that budget amount down into the various wedding categories based an a percentage. For example, you can set an overall wedding budget of $10,000. and then allocate that amount to various wedding budget expense categories such as photography expenses (10% / $1,000), flowers (10% / $1,000), reception (50% / $5,000), and many others. This wedding budget breakdown by percentage makes the wedding planning process more simple. You can then track your actual wedding expenses vs the budgeted wedding expenses.
The wedding budget spreadsheet also let you keep track of deposits and payments made to various vendor categories. Deposits are typically required for wedding venues and other wedding expenses such as photography so keeping track of deposits, payments made, and balances due can help with your wedding planning.
The wedding budget spreadsheet allows you to create your own wedding expense categories so you are not limited to predefined wedding categories. The Excel wedding budget planner has a maximum of 20 main categories and each main category can have 25 sub categories so you can have up to 500 subcategories to track all of your wedding costs.
Planning a wedding on a budget with this financial wedding organizer can help you save money by keeping within the budgets that you set within the wedding budget spreadsheet. If you are getting married this wedding planner is a tool that can help whether you are a professional wedding planner or a DIY.
Whether or not you are looking for ideas to save money on your wedding, this simple to use wedding budget software to keep track of all your wedding costs and wedding day expenses can help with organizing your wedding budget and help keep your wedding finances on budget.
The wedding budget spreadsheet is delivered by way of digital download.
Excel Wedding Budget Templates: Comparison:
Product
Basic
Plus
Pro
Features
Price
$4.95
$6.95
$7.95
Category column

Budget

 column

Actual Costs column
Deposit Paid column
Additional Paid column
Balance Due (calculated by Excel formula) column

Personal Notes

 column

Deposit Due Date

 column

Final Bal. Due Date

 column

Paid By

 column

Vendor Name & Contact Info column
Top Down Budget (% breakdown)
System requirements:
PC with Microsoft Excel 2007, Excel 2010, Excel 2013, Excel 2016, Excel 2019, Excel 2021, or Excel for Office 365 (Excel for Microsoft 365).
(standalone desktop version of Microsoft Excel or part of Office 365 subscription / Microsoft 365 subscription)
Mac computer with Microsoft Excel 2011 for Mac, Excel 2016 for Mac, Excel 2019 for Mac, Excel 2021 for Mac, or Excel for Office 365 for Mac (Excel for Microsoft 365 for Mac).
(standalone desktop version of Microsoft Excel or part of Office 365 subscription / Microsoft 365 subscription)
The Excel wedding budget planner is not compatible with Google Sheets (Google Spreadsheets)
License Terms:
By purchasing you agree with the License Terms / Terms of Sale.

Excel is a registered trademark of Microsoft Corporation
View full details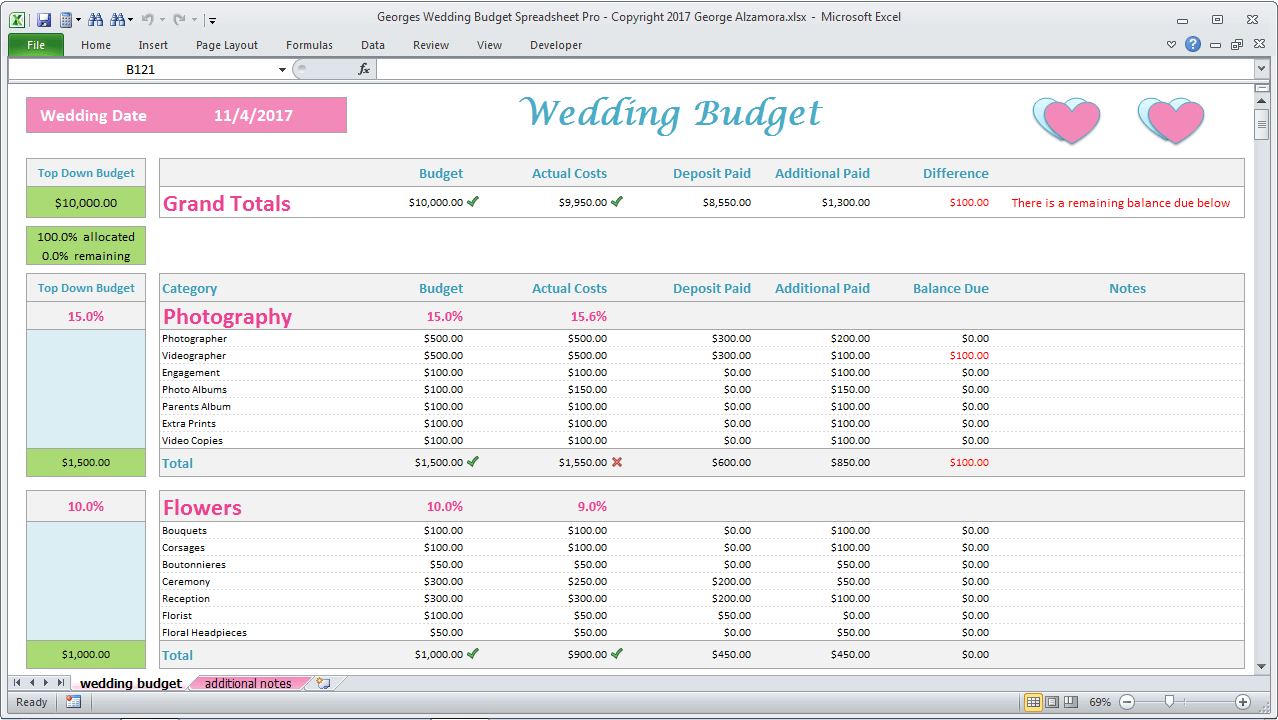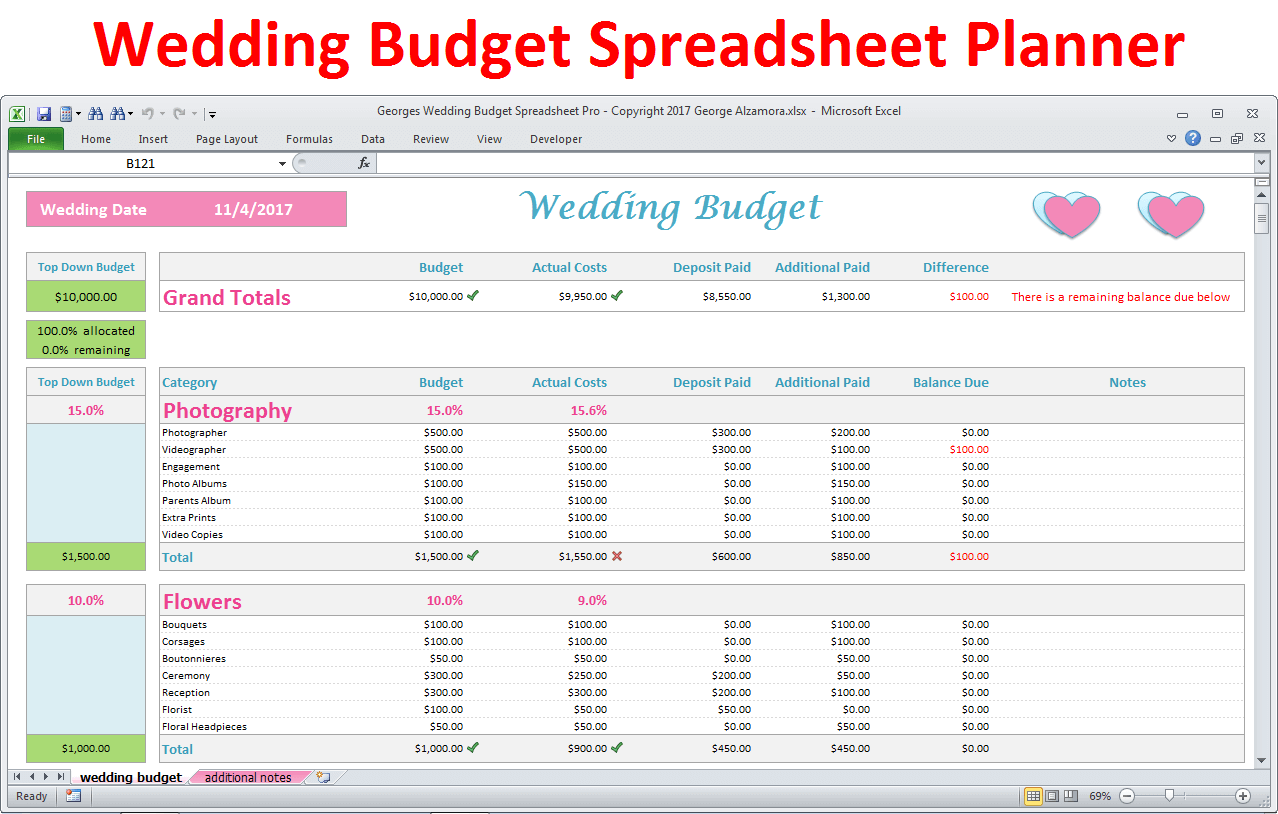 Add to Cart: Select an Option ↑
Video: Wedding Budget Template Spreadsheet