Regular price
$ 6.20 USD
Sale price
$ 4.95 USD
Unit price
per
20% Off
Sold out
Simple car loan calculator app for your iPhone. Simple way to quickly calculate your car loan payment on your phone and compare loans using simple spreadsheets.
The car payment calculator spreadsheet app calculates your monthly auto loan payment based on the amount of money you want to borrow, the car loan interest rate, and the amount of time you choose to pay of your loan.
The iPhone car loan calculator spreadsheet app can also compare two car loans side by side with visual graph so you can see which loan costs the most interest or takes the longest to payoff.
The car loan calculator for iPhone is a simple Excel spreadsheet template that helps you with your car buying and car financing decisions to see with is the best car payment that will fit into your monthly budget.
System Requirements:
iPhone with the Microsoft Excel Mobile Spreadsheet App. This is a free Excel mobile app option for those with mobile devices with a screen size smaller than 10.1 inches. To create or edit documents sign in with a free Microsoft account.  To get Microsoft Excel on your iPhone, you need to first download the Microsoft Excel spreadsheet app for iPhone found in the App Store for mobile apps and then sign in to your Microsoft Account.
iPhone with Microsoft Excel for Microsoft 365 (Office) App which is part of the Microsoft 365 subscription. Purchasing an Microsoft 365 subscription allows you to use Excel on for your phone, tablet, PC, and Mac.
The Excel car loan calculator spreadsheet app is formatted for mobile iPhone use; however, you can also use the Excel template on a Windows PC desktop or laptop computer with Excel 2010 and higher or Excel for Microsoft 365, or a Mac computer / laptop with Excel 2016 for Mac, Excel 2019 for Mac, Excel 2021 for Mac, or Excel for Microsoft 365 for Mac. (these are known as the desktop app versions of Microsoft Excel)

The software will also work on tablets and desktop / laptop computers with the free web based version of Excel, known as Excel for the web which also requires a free Microsoft Account to use and can be accessed via a web browser.
License Terms:
By purchasing you agree with the License Terms / Terms of Sale.
Excel is a registered trademark of Microsoft Corporation.
View full details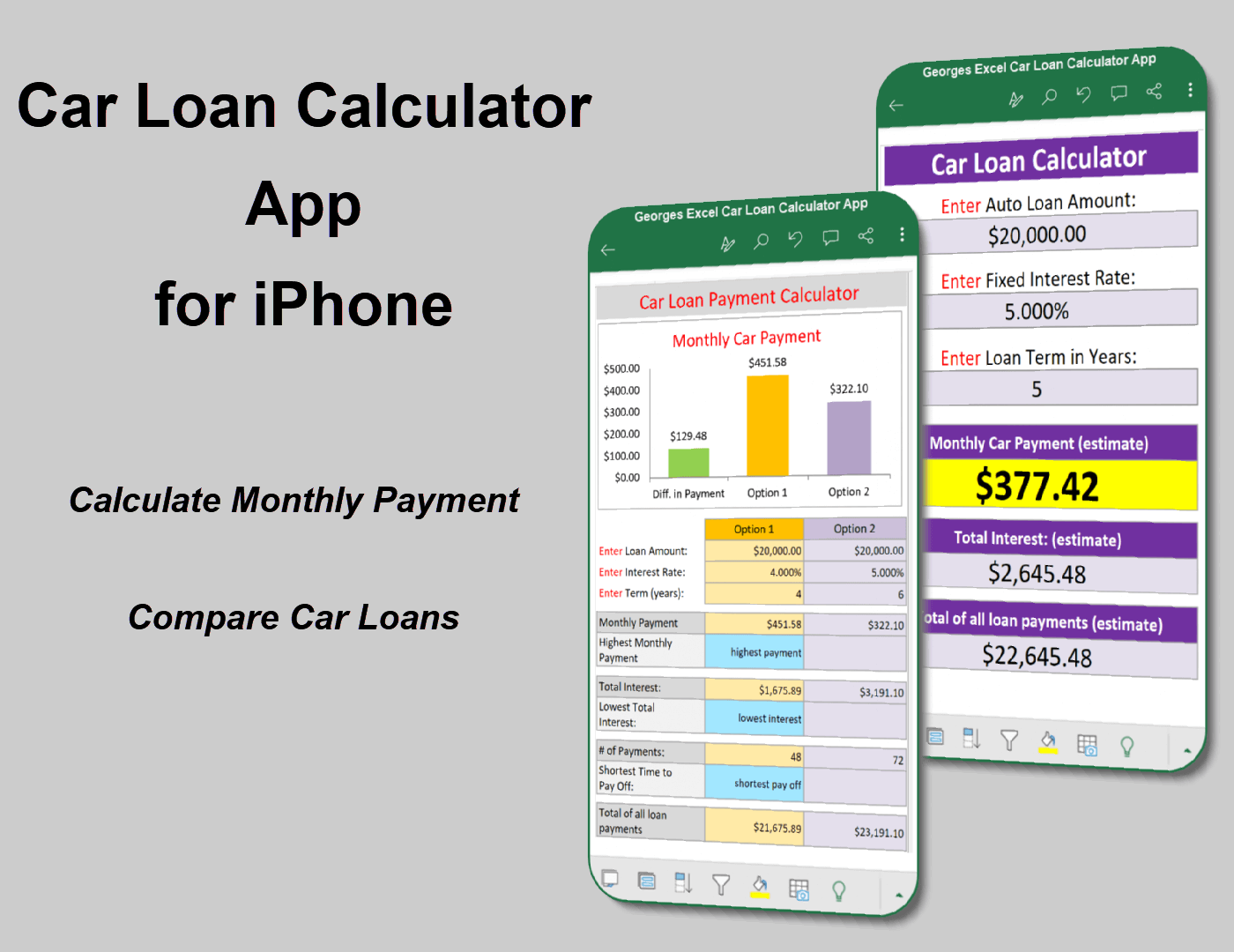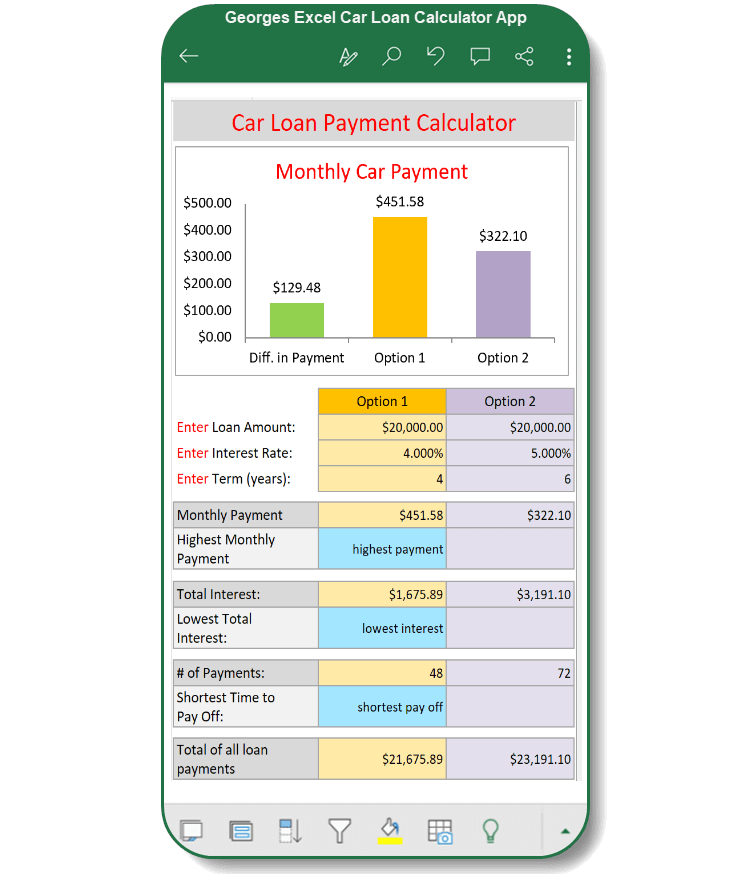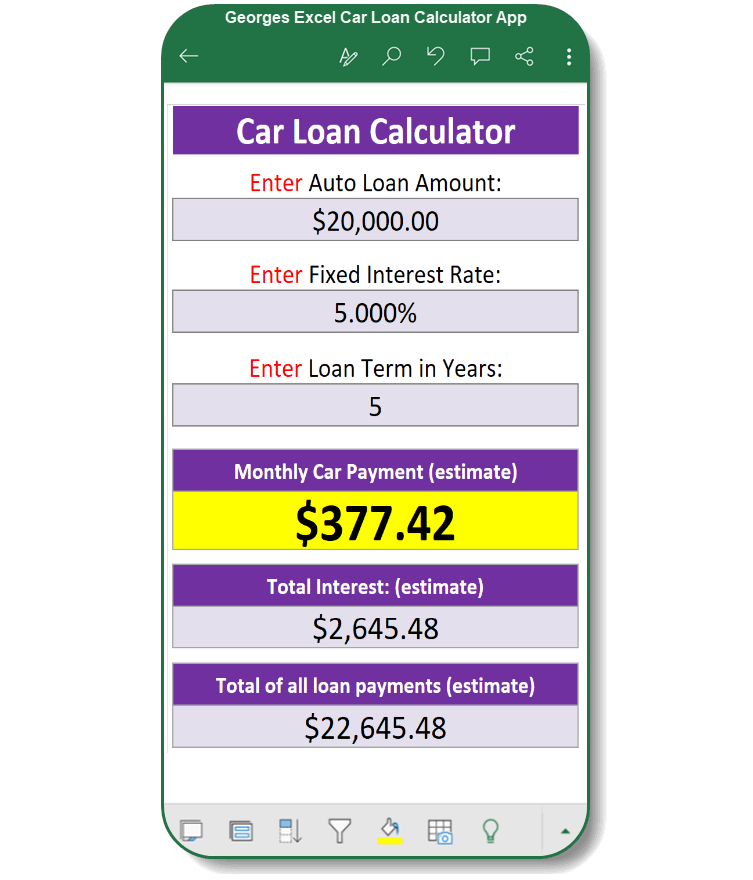 Add to Cart: Select an Option ↑