Regular price
$ 12.50 USD
Sale price
$ 9.95 USD
Unit price
per
20% Off
Sold out
Excel mortgage calculator with extra payments and mortgage calculator with amortization schedule. Whether you are in the market for real estate and looking for a low rate mortgage loan, refinance an existing mortgage loan, or keep track of your existing loan, this mortgage calculator tool can be helpful in calculating what if scenarios of mortgage payments, interest cost, and time of pay off if mortgage prepayments are made.
Key Features: (watch video 
 below for how to use):
Simple Home Mortgage Loan Calculator.
Mortgage Calculator with amortization schedule.
Mortgage Calculator spreadsheet allows you to add additional principal payments for early payoff. The Excel mortgage calculator allows you can see impact of extra principal payments on total interest cost and how you can save money on interest. Excel mortgage calculator provides the calculations to see how to pay off your mortgage early.
The mortgage calculator include 30 year mortgage calculator, 15 year mortgage calculator, and 10 year mortgage calculator or any length up to a 30 year mortgage and compare them side by side to see difference in mortgage interest costs.
The Excel mortgage calculator compare different interest rates, loan amounts, and length of loan to find the best monthly payment within your budget and see what total interest would be over life of loan.
Microsoft Excel mortgage template calculates how to pay off mortgage early and save money and interest costs over life of loan. Mortgage amortization spreadsheet simulates how to pay off your mortgage quickly and how to pay off your mortgage faster by making additional principal payments each month thus reducing time to pay off mortgage in less than 30 years.
Paying down debt is an important goal, whether you want to pay down student loan debt, pay down credit card debt, or pay down your mortgage loan. This Excel mortgage calculator will help you estimate and track your home loan payment history and amortization and see how much money you can save by making extra principal payments.
Simple to use Excel mortgage payoff calculator and mortgage prepayment calculator give you tools and charts to help you track your progress of becoming mortgage debt free.
Mortgage calculator charts visually display comparison scenarios helping you see which option saves you the most interest cost.
For home mortgages, home loans, or loans with monthly payments where interest is calculated and accrued on a monthly basis. Not for simple interest loans where interest is calculated and accrued on a daily basis. For mortgages originated in the United States.
Simple mortgage calculator with Excel mortgage calculator formula that automatically calculates mortgage payments and mortgage amortization table so you do not have to know the Excel mortgage calculator formula since the Excel mortgage template is already made for you.
In one of the Excel worksheets, Excel calculates and displays a mortgage amortization table based on irregular extra principle payments that you can add monthly in addition to the regular monthly mortgage payment and shows you the mortgage interest savings from making those irregular extra payments on the mortgage loan to pay off home early.
Another benefit of the Excel mortgage calculator is that it can function like an online mortgage calculator in the sense that you can access it from any location, if you store the Excel mortgage calculator template online with an online storage service like Microsoft OneDrive or Dropbox.  As long as you have the correct version of Microsoft Excel on your computer, you can access your Excel mortgage calculator template wherever you have interest access. If you choose to store the Excel mortgage calculator template online, remember to store it in a private password protected account with password protected folders so that only you have access to the Excel file.  You can even password protect the Excel file.
Whether searching for a free mortgage calculator or the best mortgage calculator, consider this easy mortgage calculator with additional payments and mortgage calculator with amortization table.  A free mortgage calculator may not have all the features you are looking for in a mortgage calculator.
In addition to the process of taking out a mortgage loan and searching for the best mortgage rates or the lowest mortgage rates, you also need a good mortgage calculator to calculate your monthly mortgage payment and total interest cost of the home loan to see if it meets your monthly budget and is an affordable mortgage loan.
Mortgage calculator is delivered by digital download. After you purchase the mortgage calculator, you will receive a link to download the Excel home loan calculator template.
Only for fixed rate mortgages and not for adjustable rate mortgages (ARM) or variable rate mortgages where the mortgage interest rate is periodically adjusted as indicated in the mortgage loan terms from the lender.
System requirements:
PC computer with Microsoft Excel 2007, Excel 2010, Excel 2013, Excel 2016, Excel 2019, Excel 2021, or Excel for Office 365 (Excel for Microsoft 365).
(standalone version of Microsoft Excel or part of Office 365 subscription / Microsoft 365 subscription)

Mac computer with Microsoft Excel 2016 for Mac, Excel 2019 for Mac, Excel 2021 for Mac, or Excel for Office 365 for Mac (Excel for Microsoft 365 for Mac)
(standalone version of Microsoft Excel or part of Office 365 subscription / Microsoft 365 subscription) (not compatible with Excel 2011 for Mac)

Excel mortgage amortization calculator is not compatible with Google Sheets (Google Spreadsheets)
The mortgage loan spreadsheet calculator is not compatible with Microsoft's free "Excel Online" app that is part of the free Office Online apps. These online apps are web browser based and have limited features compared to the full desktop version of Microsoft Excel.
License Terms:
By purchasing you agree with the License Terms / Terms of Sale.
Excel is a registered trademark of Microsoft Corporation.
View full details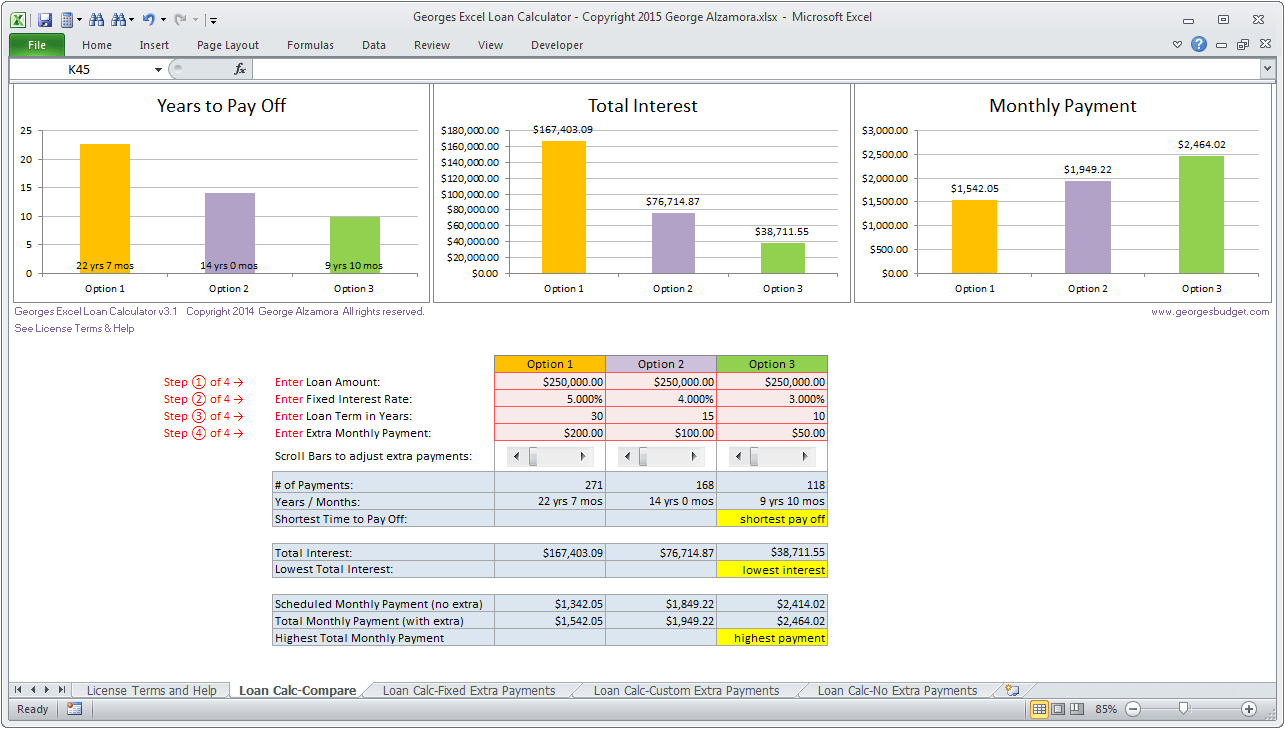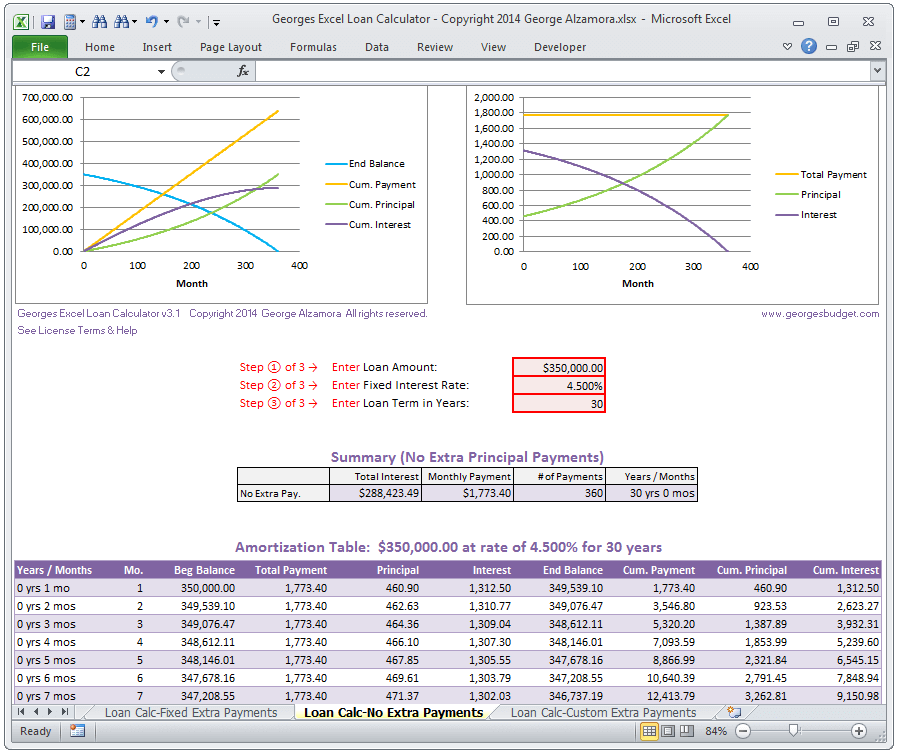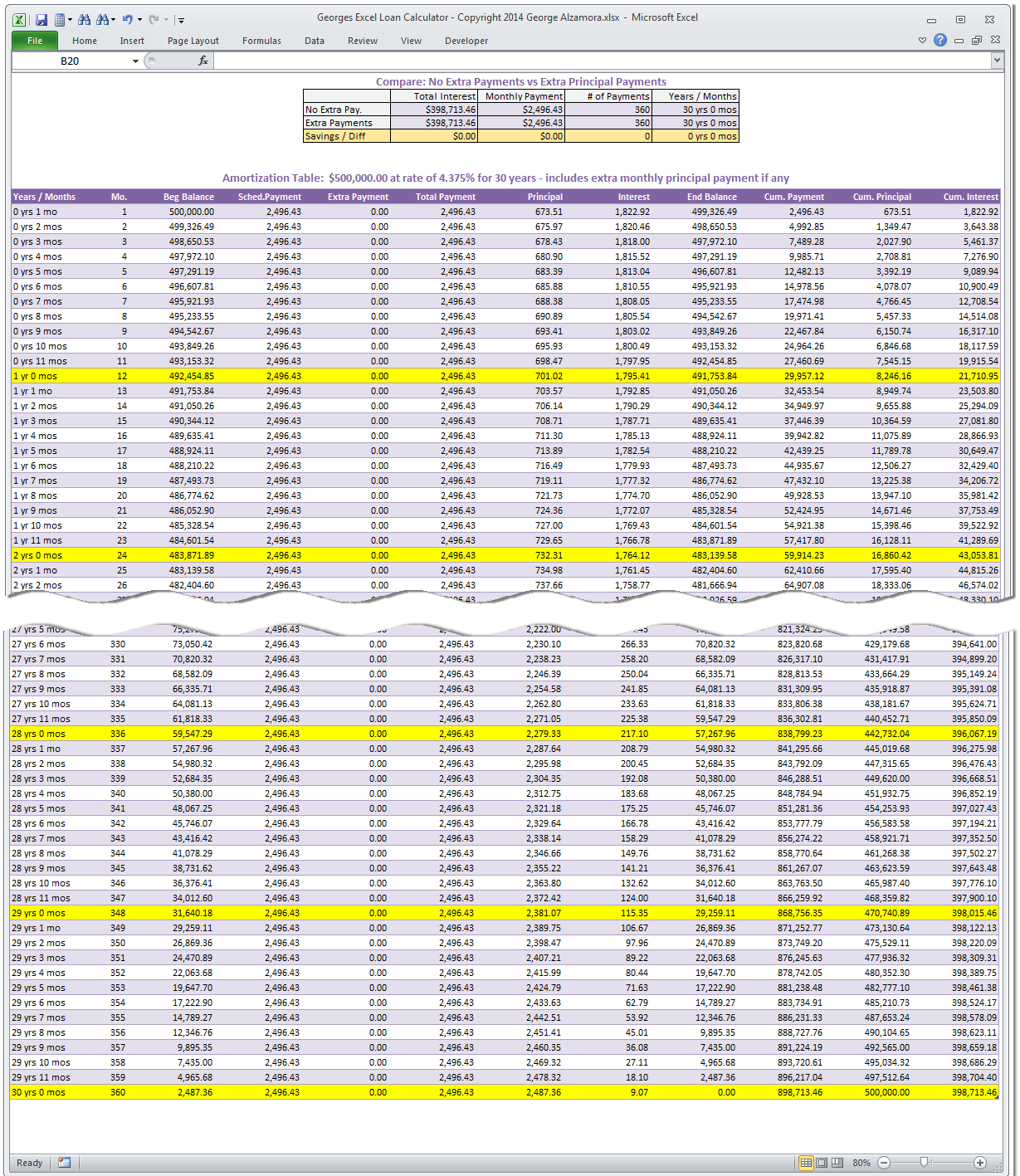 Add to Cart: Select an Option ↑
Video: Excel Mortgage Loan Calculator Spreadsheet

Works Great
Georges Excel Mortgage Loan Calculator v3.1
Thank you for your 5 star review on the Excel Mortgage Calculator.
Excellent
The spreadsheet wasn't the right one for my particular needs. But it's a great tool for anyone who has need of this tool.
Great spreadsheet and fantastic customer support.
I purchased this spreadsheet and I caused a problem in the downloading process (my mistake). George went above and beyond to get me up and running. The template does everything I was looking for and I would definitely buy from George again.
Great tool for anyone with a mortgage. I would highly recommend it.
Although I am a math teacher, I struggle sometimes to understand the intricacies and complexities of mortgage amortizations and excel. This tool helped simplify both of those areas drastically. Beyond helping us plan/strategize and look ahead, it is a great motivator too.
Mortgage Calculator -Wonderfully easy to use form!
I purchased this form as it is far easier to use than any other online software calculator I have. Being in the mortgage industry for over 10 years I wanted a easy form to quickly show others just how the impact on adding extra payments can add equity and reduce interest. This Excel sheet does that and more. It has saved me time and hassle!