Regular price
$ 6.20 USD
Sale price
$ 4.95 USD
Unit price
per
20% Off
Sold out
2023 weight loss tracker app for android phones using the Microsoft Excel app for android. Easily log your daily weight in an Excel spreadsheet app and chart your progress in an Excel chart.  Whether you are trying to lose weight in 2023 or gain weight in year 2023, this Excel spreadsheet app will help your track your progress in reaching your 2023 weight goals. Start tracking your weight loss in your android mobile device such as the Samsung Galaxy phone, Google Pixel mobile phone, or any mobile cell phone running the google android mobile operating system.

Key features of the weight loss app spreadsheet:
Daily weight tracker app for android phones for year 2023
Parts of the Excel chart and table are editable so you can change the weight measurement from lbs. (pounds) to kg (kilograms)
The mobile weight loss app allows you to compare daily actual weight to desire weight goals for calendar year 2023 in both visual form with the chart and table format with weight amounts.
In the Excel weight loss app spreadsheet, you can set weight goal maximum and minimum so can set a target goal range or an optimal weight range that you want to stay within.
Using the Android weight loss app, enter your actual weight daily, weekly or at your desired time interval. If you skip a day, the chart will connect the missing data points with a line.
Easy to see Excel graph to view your weight loss progress and spot trends in the Excel chart and indicators.
Visual Indicators alert you if you are within weigh goal range. The green checkmark indicates that you are within your desired weight range and the red x indicates that you are outside your desired weight range.
Ideally, track your weight on daily basis preferably at the same time each day. However, you can do it on a weekly basis or other time period.
Change the look of the Excel weight loss app for Android by changing the cells fill colors, the font, the size of the font and the color of the fonts. You can also change the color of the slider for zooming into specific months and the chart colors.
The easy to use android weight tracker app spreadsheet can help your meet your year 2023 fitness goals including gaining weight for some or loosing body weight for others.
While there are many online weight loss apps and free weight tracker apps, this Excel weight loss app for android devices is a great alternative to easily record and monitor your weight on a daily basis and visually chart your progress in Excel graphs. The Excel template is a digital download so you can start tracking your 2023 weight loss goals right away. The weight loss app for android phone is only for tracking your weight in the 2023 calendar year. If you are trying to lose weight fast or lose weight gradually, this a useful tool to help track your 2023 weight loss goals.
I personally do not use the wearable fitness and weight trackers because I prefer the freedom of not having a device attached to me. I prefer a software based weight tracker app such as Georges Excel weight tracker app for Android which is a spreadsheet based app which you can upload to your private file sharing storage service such as OneDrive or Dropbox so that you can have access to your Excel weight tracker app anywhere you go using your android mobile device, laptop computer or desktop computer as long your device has the required Microsoft Excel version installed.
System Requirements:
Android phone with Excel for Microsoft 365 (formerly called Excel for Office 365) (part of Microsoft 365 subscription) To get Microsoft Excel on your Android phone, you need to first download the Microsoft Excel spreadsheet app for Android found in the Google Play website for mobile apps using the android operating system and then sign into your office 365 account. There is a free Microsoft Excel app for android phones in the Google Play app store, but the free version is only for viewing and not editing the Excel weight loss app chart so an Microsoft 365 subscription plan is needed.
PC Computer with Excel for Microsoft 365 or Mac Computer with Excel for Microsoft 365 for Mac (The excel weight tracker spreadsheet for Android phones is formatted for mobile phone use and viewing; however, you can also use the Excel template on a PC or Mac computer / laptop with Excel 2016, Excel 2019, Excel 2021 for Mac, or Excel for Microsoft 365)
The mobile excel weight tracker for Android devices is not compatible with Google Sheets (Google Spreadsheets) and Apple Numbers spreadsheets.
License Terms:
By purchasing you agree with the License Terms / Terms of Sale.
Excel is a registered trademark of Microsoft Corporation.
View full details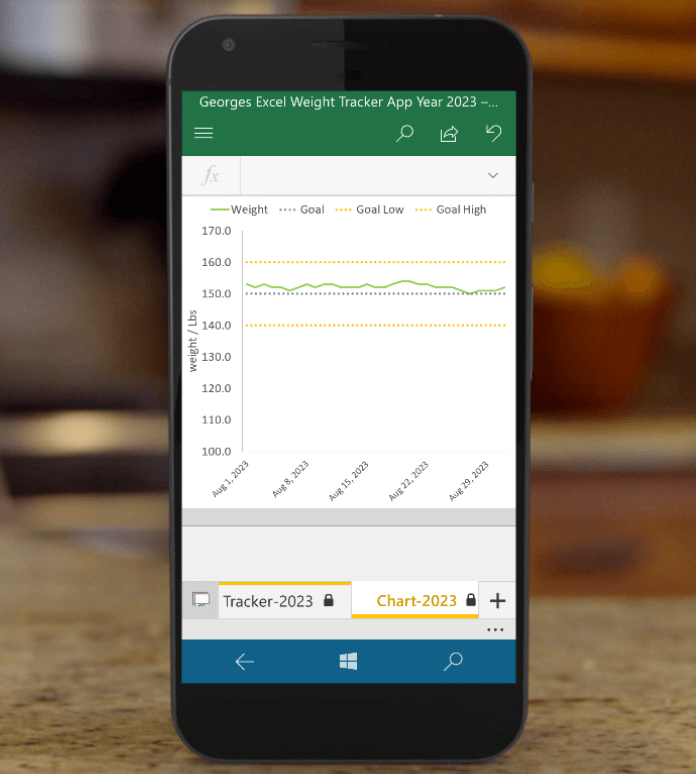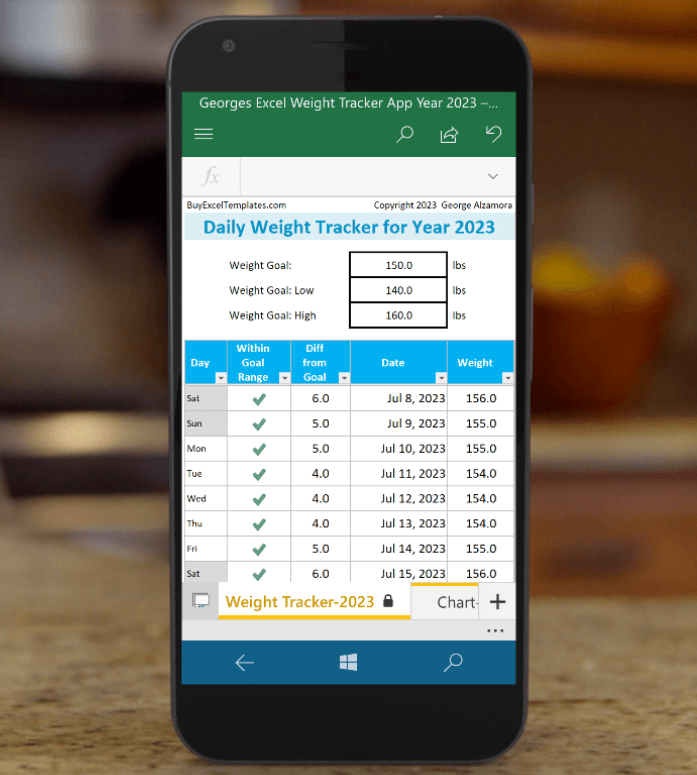 Add to Cart: Select an Option ↑