Regular price
$ 19.95 USD
Regular price
$ 25.00 USD
Sale price
$ 19.95 USD
Unit price
per
20% Off
Sold out
Mac budget software with integrated checkbook registers.  Personal finance software for Mac computers to help manage your monthly budgets and keep track of your bank accounts, checking accounts, and credit card transactions in Excel checkbook registers.
Budget software for Mac: Top features
(watch video 
 below for demo)
Mac budget spreadsheet helps you take control of your finances and start saving money by setting up a monthly budget and track your spending by comparing to the budget you set.
Whether you are saving money for a vacation, an unexpected expense, saving for a house down payment, or saving for retirement, the Mac budget spreadsheet allows you to create savings account balance goals by setting a desired balance amount to reach in your savings accounts and bank accounts and tracking your progress towards your financial goals.
Create you own budget categories including up to 15 income categories and up 80 expense categories.
Keep track of any calendar year including your year 2021 monthly budget, year 2022 monthly budget, year 2023 monthly budget, and future calendar years as the Mac budget spreadsheet is not limited to a specific calendar year.
The Excel budget app for Mac helps prevent bank account fees such as overdraft fees by tracking your bank transactions in simple to use checkbook registers and credit card registers. You can also track your savings accounts. You can track up to 10 financial accounts in any combination in the registers. For example, you might have two Bank of America checking accounts, two Chase Bank savings accounts, three American Express credit cards, two Citibank credit cards and one Discover credit card for a total of 10 financial accounts. The transactions you add to the checkbook registers represent your actual spending and income and these will be used to compare to the budgets that you set to see if you are over spending and need to cut expenses and also if you are making enough income to support your spending.
The personal budget template for Mac makes bank account reconciliation and credit card account reconciliation easier to complete since you can mark cleared transactions with a green checkmark and easily see totals for your register balance, cleared transactions and outstanding transactions based of what you mark with the green checkmark.
With the personal budget program for Mac, bank account transactions can be filtered to help search and find groups of financial transactions in the checkbook registers and credit card registers.
Checkbook registers can split transactions into different categories allowing you to better reflect your actual spending habits.
Easy reports include Monthly Budget vs Actual reports and Yearly Budget vs Actual Report to see all the categories you are spending in and if under budget or over budget.
Accounts Summary lists your account balances and you can also set balance goals to reach in your financial accounts.  There is also top 5 expenses to view and you can focus on a particular expense category and see the actual vs budget data for This Year, Last Year, and Last 12 months.
The budget template for Mac is a simple budget tool making managing your day to day finances more easy whether you are creating a family budget spreadsheet, a budget for couples, a college budget or a budget for singles.
While there are free Mac budget software templates available online as digital downloads or free budget apps for using on your iphone or IPad tablet, Georges Budget Spreadsheet for Mac is paid budget software spreadsheet for Mac computers and it has great checkbook and monthly budget spreadsheet features noted above that other free budget software for Mac may not have. Whether paid or free budget app, it is best to compare Mac budget software since personal budgeting is unique to the individual or family as some like to create a weekly budget, others may need a biweekly budget and other prefer a monthly budget as this budget template provides.
System Requirements:
Microsoft Excel 2019 for Mac, Microsoft Excel 2021 for Mac, or Excel for Microsoft 365 for Mac (Excel for Office 365 for Mac) (Microsoft 365 subscription plans / Office 365 subscription plans must be purchased separately from Microsoft or another seller)
Mac computer with quad-core 8th-generation Intel Core i3 processor or better. Minimum 8GB memory. Minimum 128GB SSD storage (must have SSD - Solid State Drive storage as opposed to HDD - Hard Disk Drive storage) (Mac computers include iMac, iMac Pro, Macbook Air, Macbook Pro, Mac Pro, Mac Mini from Apple running the macOS operating system as long as they meet the full system requirements.
PC Windows Computer with Microsoft Excel 2010, Excel 2013, Excel 2016, Excel 2019, Excel 2021, or Excel for Microsoft 365 (Excel for Office 365). PC computer needs to be at least 3 GHz processor, 8 GB RAM and SSD storage.
Supported in the United States, Canada, and Australia as amounts are formatted with the $ symbol and Dates are formatted as MM/DD/YYYY.
The Excel template for Mac is not compatible with Google Sheets (Google Spreadsheets)
The Excel for Mac budget spreadsheet is not compatible with Microsoft's free "Excel Online" app that is part of the free Office Online apps. These online apps are web browser based and have limited features compared to the full desktop version of Microsoft Excel for Mac.
Mac budget template is not compatible with Numbers for Mac / Numbers for iOS / Numbers at iCloud.
The Excel budget template is not compatible with the Excel Mobile app whether using Android or iphone. (Excel mobile app is part of Microsoft Office Mobile apps that allow you to use a feature reduced version of Excel on your compatible mobile phone and smaller tablet devices to review, update, and create spreadsheets). 
License Terms and Refund Policy:
By purchasing you agree with the License Terms / Terms of Sale.
By purchasing you agree with the refund policy.
Excel is a registered trademark of Microsoft Corporation.
View full details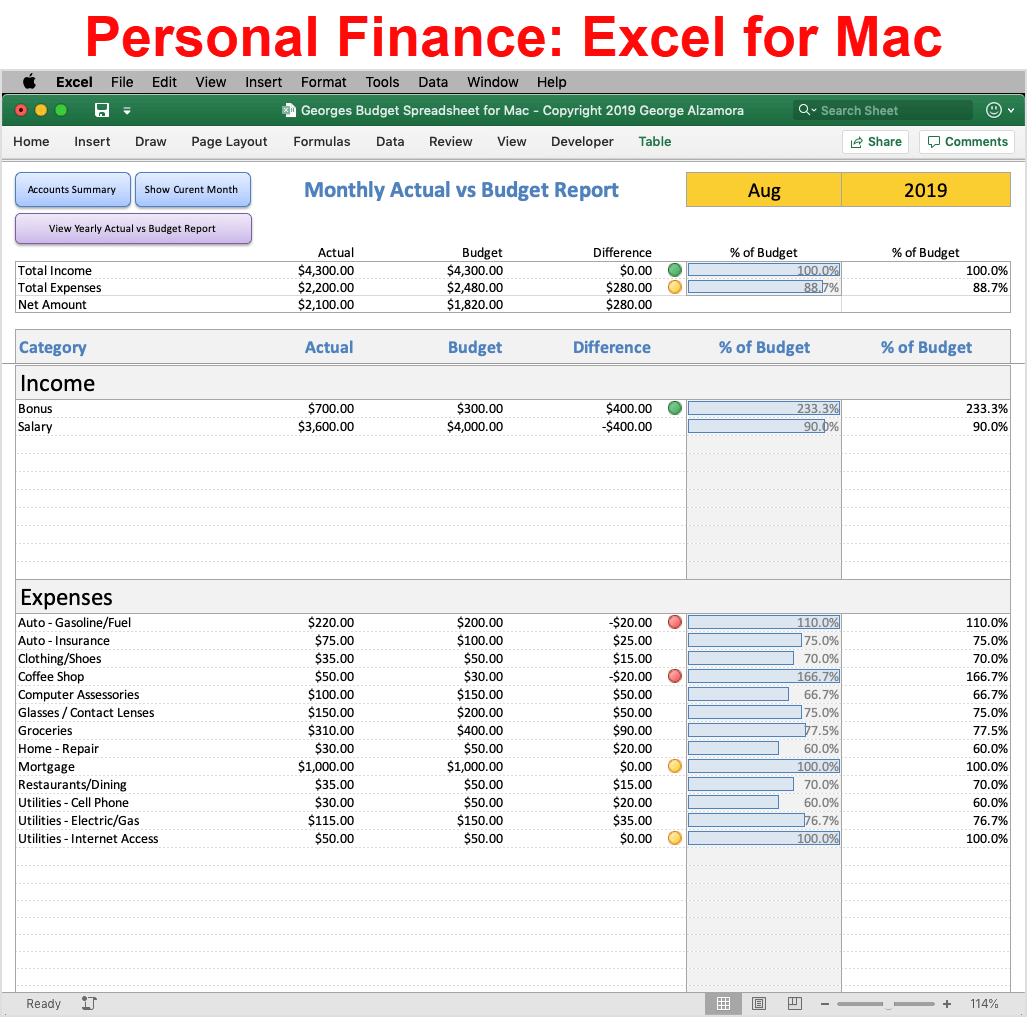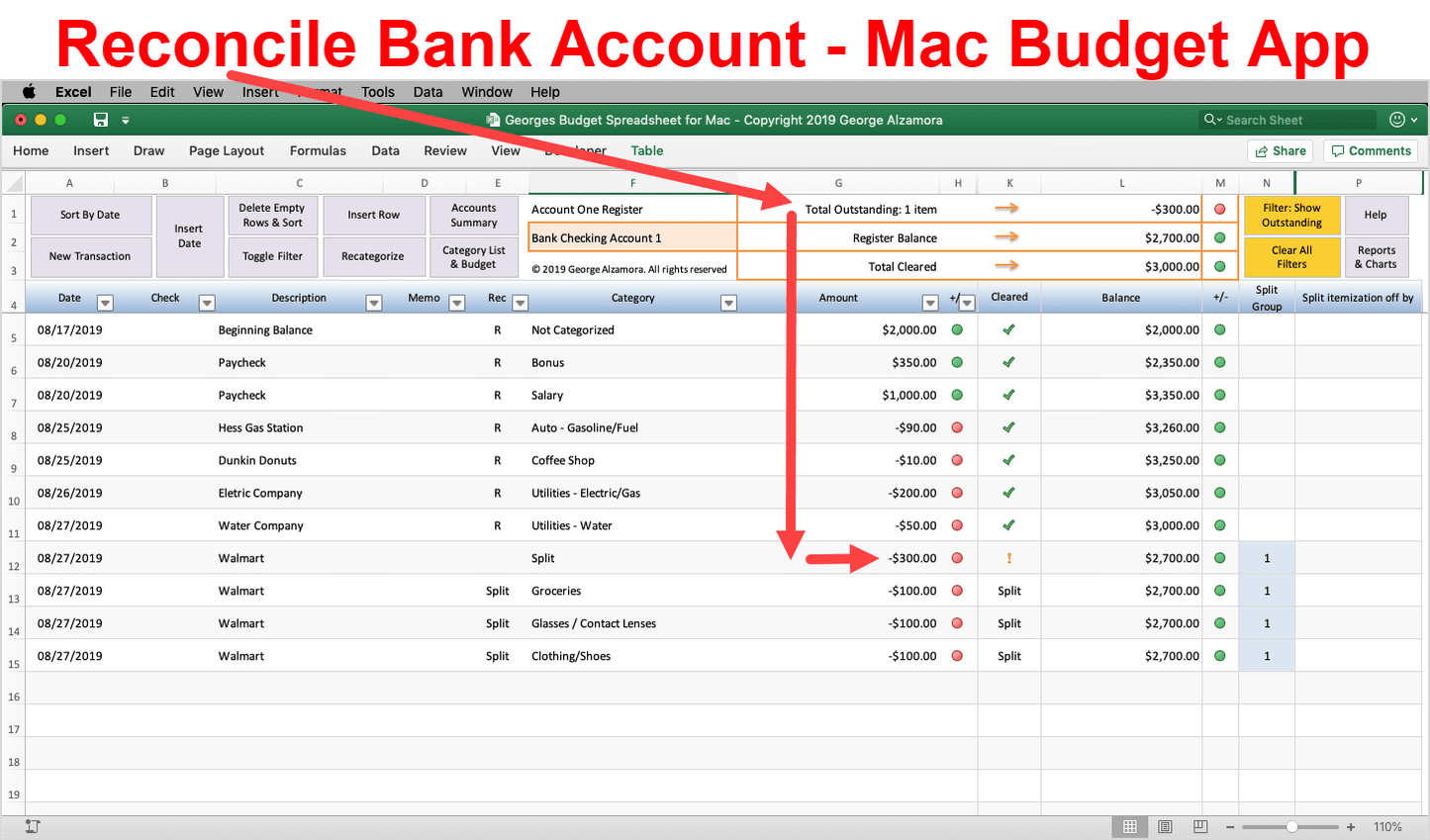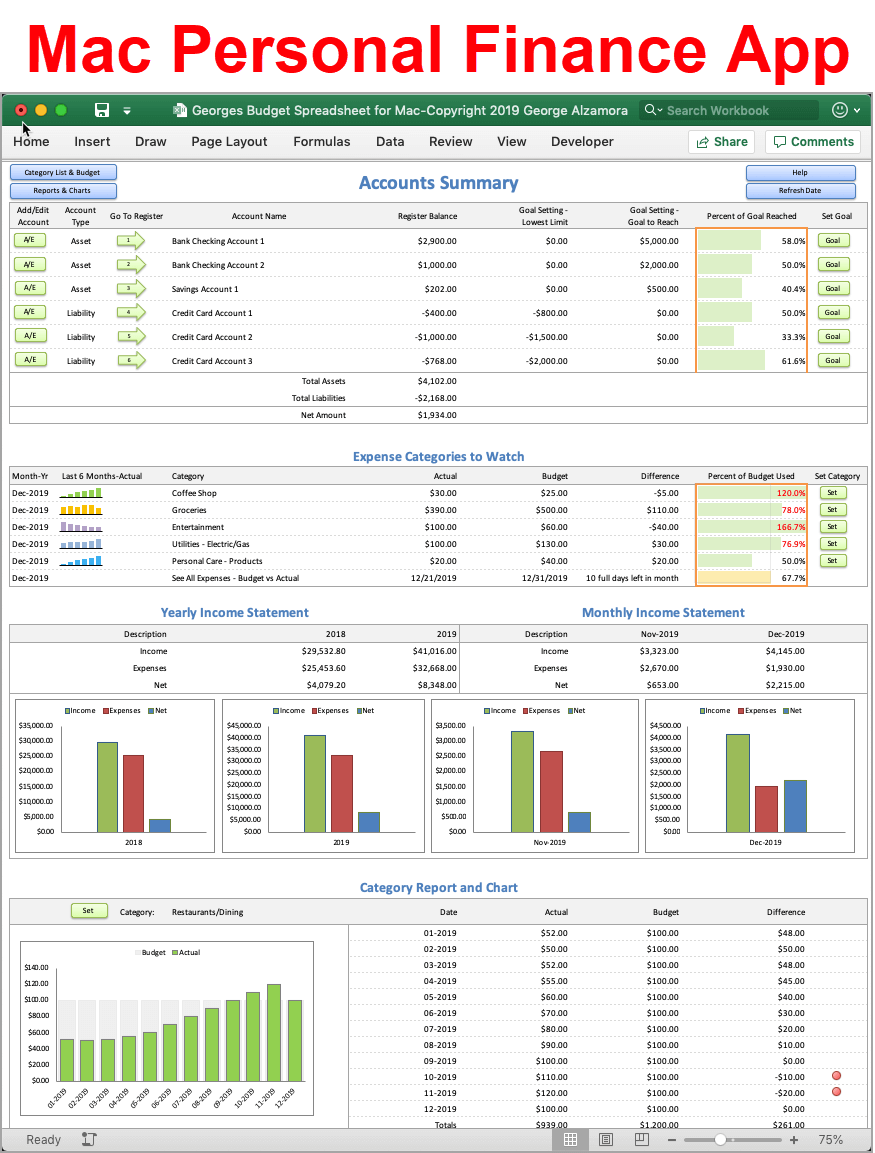 Add to Cart: Select an Option ↑
Video: Budget Spreadsheet for Mac

Almost perfect
Great tool that suits my purpose, easy to use and interpret. Only issue I have is the inability to change formatting for dates, Im not used to the month/day/year format and its hard to follow intuitively, it also stops the insert date button functioning properly
Absolutely a Great Budget Tool!
This is a great budget tool and very easy to use.