Regular price
$ 49.95 USD
Regular price
$ 62.44 USD
Sale price
$ 49.95 USD
Unit price
per
20% Off
Sold out
Get your finances in order with this easy-to-use checkbook spreadsheet. The checkbook registers predesigned Excel spreadsheet formulas automatically calculate your running balances and dynamically create visual reports and charts. Save the time spent using the pen, paper and calculator and track of all your expenses and income in the simple checkbook spreadsheet and start to manage your money like a pro.
Excel Checkbook Spreadsheet features:

Record and track bank account transactions in the Excel checkbook registers 
Track multiple accounts:  checking accounts, credit card accounts, savings accounts, loan accounts, mortgage accounts, and retirement savings accounts such as 401k and Roth retirement accounts
Easy bank account reconciliation so you balance your checkbook and also reconcile your credit card accounts

New:

 Split transactions into multiple categories in any of the spreadsheet account ledgers including the Excel checkbook registers and Excel credit card registers. Improve expense tracking by better reflecting actual spending (for example, if you went to Costco and spent 200.00 on groceries and 100.00 on clothes, you can now split that single purchase into the categories of food and clothing so that your spending reports will better reflect your actual purchases.

New:

 Each Excel account register has an extra column title Tag where you can add additional transaction related data. This can greatly improve the custom reports that you can create. For example you can use the extra column to tag a transaction as tax deductible, or personal vs business, or fixed vs variable expenses, or need vs want, thus allowing you to create custom reports based on those criteria. For example, in the custom Pivot Table reports, you can then create your own income / expense reports based on the information you added in the new Tag register column such as a report that compares your fixed expenses to your variable expenses for a given time range.

New:

Reclassify categories in the registers. Quickly change categories to different category names for transactions already entered into the registers.

New: Improved the navigation in the checkbook spreadsheet amount between  the different dashboards, charts, and checkbook registers.
Track your net worth over time in dynamic charts and tables based on the values in your asset accounts such as your home value, stock market investments, precious metals such as gold and silver, and debt accounts such as your mortgage loan.
The customizable Excel pivot table reports allow you to create dynamic reports to meet your unique financial position.
Create you own income categories and expense categories.
This Excel checkbook software helps you get better control over your expenses and income
Future dating of transactions in the Excel checkbook registers and Excel credit card registers allows you to forecast your spending so you can be better plan for the future.
The checkbook software is designed to make money management simple and fast
Checkbook Spreadsheet Template Benefits: 
The Checkbook Account Tracker Spreadsheet can track up to 12 accounts including checking accounts, credit card accounts, savings accounts and other financial bank accounts. 
Track your spending, saving, investing, income, assets, liabilities, and more.
Easy-to-use and customizable financial tool. Keep track of your finances quickly and accurately.
Ability to split transactions in the checkbook registers. Splitting transactions creates more accurate records of your spending and what you actually bought by allowing you to assign a single transaction to multiple spending categories and even multiple income categories.
The user-friendly checkbook spreadsheet allows you to wisely track your hard earned money and dollars spent.
The Excel checkbook template help you keep an organized record of your financial activities
With the ability of the Excel checkbook spreadsheet to generate reports and analyze spending trends, you can gain new insight into your spending habits to better plan for the future.
Take out the chore of balancing your checkbook with this simple checkbook software.
An important financial tip is to track of your income and spending and this checkbook software helps your accomplish getting financially organized so you can start saving money. Stay in control of your money funds going in and out of your accounts with this top selling checkbook spreadsheet. 
Checkbook Spreadsheet System requirements:
PC (Microsoft Windows computer) with

Microsoft Excel 2021 (one time purchase) or 

Excel for Microsoft 365

 

(part of Microsoft 365 subscription)
Mac Computer with

with 

Microsoft Excel 2021 (one time purchase) or 

Excel for Microsoft 365

 

(part of Microsoft 365 subscription)

. 

You need to have one of these specific versions of Microsoft Excel for Mac. Not compatible with Apple iPhone or Apple iPAD due to the Excel VBA macros not yet compatible on those mobile devices.
Supported in the United States, Canada, and Australia as amounts are formatted with the $ symbol.  The Date field in the Excel checkbook registers are formatted as MM/DD/YYYY.
The checkbook spreadsheet is not compatible with Google Sheets 

(Google Spreadsheets)

as the Excel file contains custom Excel VBA macros and Excel functions and Excel formulas not compatible with Google sheets.
The checkbook spreadsheet template is not compatible with the Excel Mobile app whether using Android or iPhone. (Excel mobile app is part of Microsoft Office Mobile apps that allow you to use a feature reduced version of Excel on your compatible mobile phone and smaller tablet devices to review, update, and create spreadsheets). The Excel template requires one of the full desktop versions of Excel listed above under the system requirements.
The PC computer or Mac computer should have minimum 3 GHz processor, 16 GB RAM and SSD storage.
Install the 64 bit version of Microsoft Excel and the 64 bit version of your operating system for best performance. These 64 bit software versions are typically installed by default.
License Terms and Refund Policy:
By purchasing you agree with the License Terms / Terms of Sale.
By purchasing you agree with the refund policy.
Excel is a registered trademark of Microsoft Corporation.
View full details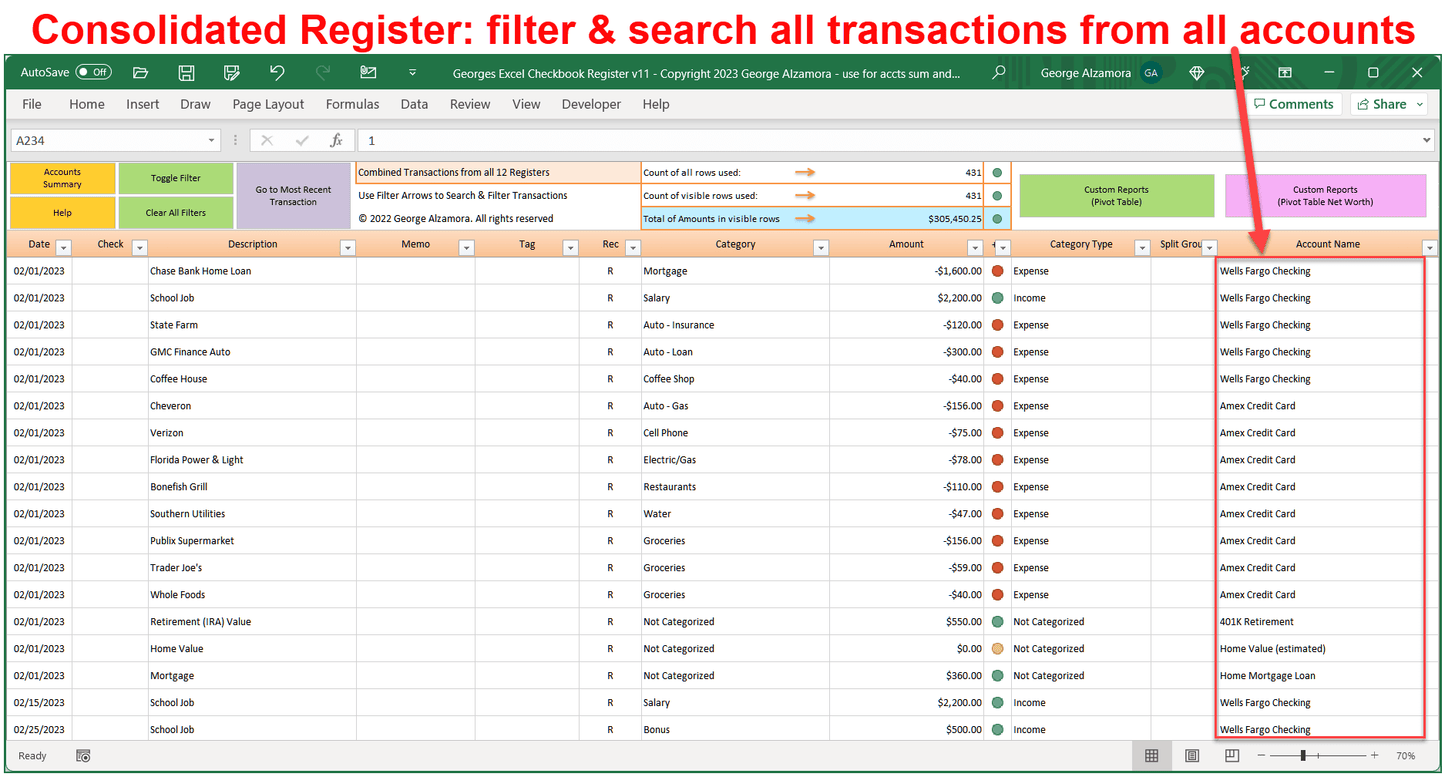 Add to Cart: Select an Option ↑
The Perfect Solution
Georges Excel Checkbook Register v11 is awesome! I've had at least three versions and each one is better that the last. George has been so helpful answering the questions I had. I am a lifelong user of Georges Excel Checkbook Register!
Hi Rev. J.B.
Thank you for being a repeat customer and your 5 star review! It is great to hear that you like the new checkbook software.
George