Regular price
$ 12.50 USD
Sale price
$ 9.95 USD
Unit price
per
20% Off
Sold out
Checkbook software for Mac. Simple to use Excel checkbook spreadsheet for Mac computers to keep track of your checking accounts, credit card accounts and savings accounts. Mac software for keeping track of your personal finances in a checkbook register. Checkbook for Mac helps balance your checkbook and reconcile your bank accounts by keeping track of reconciled transactions vs outstanding transactions and showing the balances of each. Keeping track of your financial transactions in a checkbook register and reconciling the bank accounts against your bank statements can help prevent overdraft charges, mistakes by the bank, or fraudulent activity. Note: The newer version of this checkbook for mac that allows for more registers, financial transactions and other great new features is available here: "Georges Excel Checkbook Register v5".
Overview: (see video  below for demo)
Whether your account is a checking account, credit card account or savings accounts, you can use the checkbook registers transactions to record purchases, checks written, deposits, withdraws, ATM transactions or more to know what your accounts balances are.
Transactions in the checkbook register for Mac can assigned a category and then filtered and subtotaled by a particular category and date range so that you can create a simple report directly in the checkbook registers.
Transactions in the checkbook for Mac can be sorting by date and you can insert the date with a macro to save time.
The Excel checkbook register for Mac can track multiple accounts allowing you to see up to seven account balances in the account summary.
Excel checkbook register formula calculates the running balance and totals the bank accounts, checking accounts, credit card accounts and savings accounts in the Accounts Summary to view your personal finances in one place.
The checkbook software for Mac can be use with other money management software to get a better picture of your personal finances and wealth.
For best record keeping, transactions should be entered into the registers as they occur. There is no automated import feature, however if you know Excel, you can download the transactions from your bank account into a csv file format and then clean up those transactions and copy and then use the paste values command to put them into the checkbook registers.
Free checkbook register software does not mean the best checkbook software or the best checkbook app, so consider Georges Excel Checkbook Register for Mac when you are looking to compare Checkbook Software programs.
The checkbook software for Mac is an Excel template that can be used for any calendar year.
This easy to use Excel checkbook spreadsheet for Mac is delivered by way of digital download. The Excel Checkbook register download is available to you after your purchase. The Excel Mac checkbook with categories can also be printed from within Excel.
System Requirements:
Mac Computer with Microsoft Excel 2016 for Mac, Excel 2019 for Mac, Excel 2021 for Mac, or Excel for Office 365 for Mac (Excel for Microsoft 365 for Mac).
(standalone desktop version of Microsoft Excel or part of Office 365 subscription / Microsoft 365 subscription)
Supported in the United States, Canada, and Australia as amounts are formatted with the $ symbol. Dates are formatted in the checkbook registers as MM/DD/YYYY.
The Excel checkbook template is not compatible with Google Sheets (Google Spreadsheets)
The checkbook software is not compatible with Microsoft's free "Excel Online" app that is part of the free Office Online apps. These online apps are web browser based and have limited features compared to the full desktop version of Microsoft Excel for Mac.
The Excel checkbook spreadsheet is not compatible with the Excel Mobile app whether using Android or iphone. (Excel mobile app is part of Microsoft Office Mobile apps that allow you to use a feature reduced version of Excel on your compatible mobile phone and smaller tablet devices to review, update, and create spreadsheets). The Excel template requires one of the full desktop versions of Excel listed above in the system requirements.
License Terms and Refund Policy:
By purchasing you agree with the License Terms / Terms of Sale.
By purchasing you agree with the refund policy.
Excel is a registered trademark of Microsoft Corporation.
View full details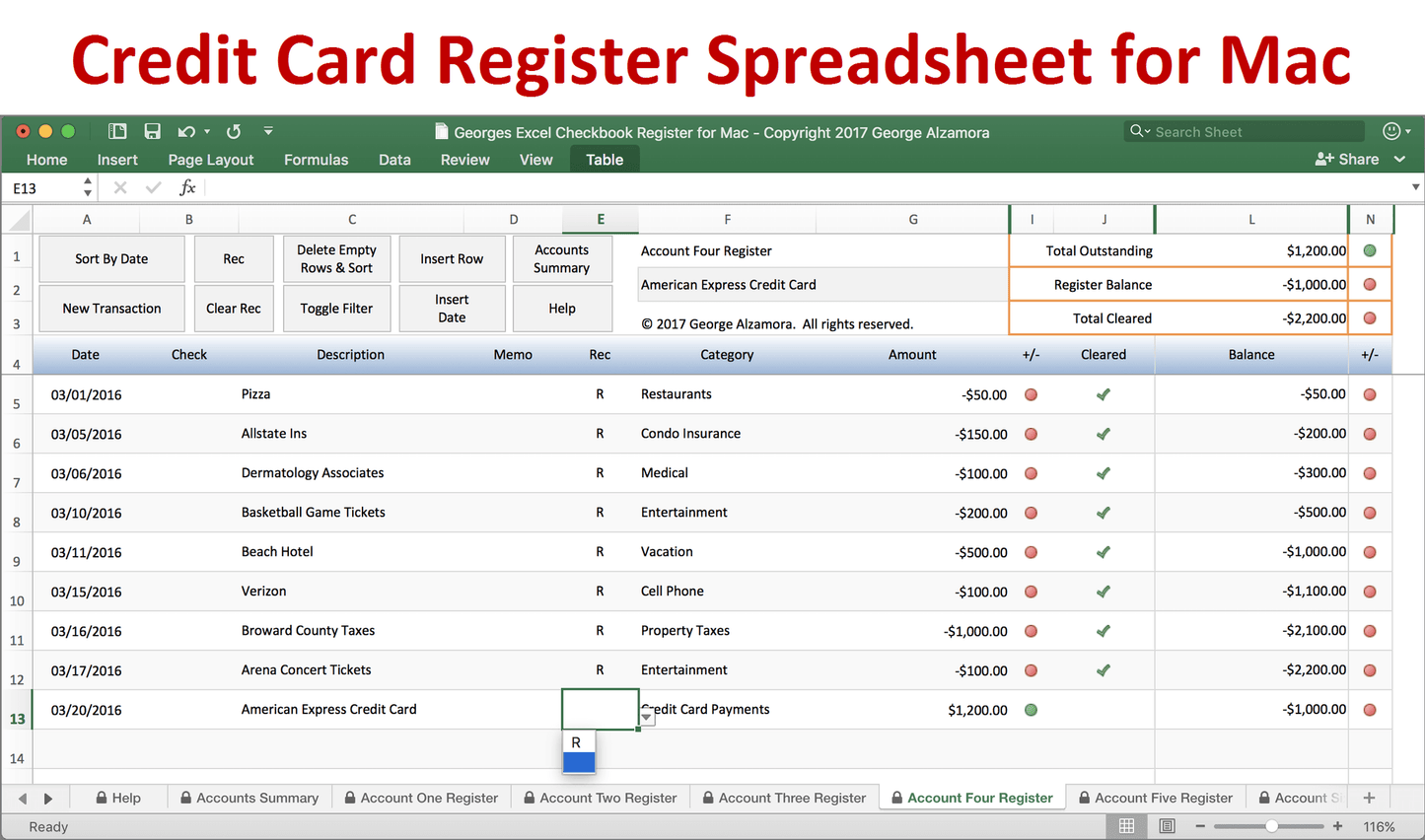 Add to Cart: Select an Option ↑
Video: Checkbook for Mac Excel Spreadsheet

Checkbook Register
This is the second time I've bought the George's Excel checkbook register and I will continue doing so as the need arises. I bought it again because it is simple to use, flexible for different accounts and reliable.
Like Quick books
I have seven accounts entered in the George's Excel checkbook app and it was easy to do. You can see all the balances and what is outstanding on ONE page. I love it.