Regular price
$ 14.95 USD
Regular price
$ 18.69 USD
Sale price
$ 14.95 USD
Unit price
per
20% Off
Sold out
Excel checkbook register software is a great option for individuals and families looking to replace their current checkbook software or paper checkbook register with a checkbook register spreadsheet. This is not budget software, but only contains checkbook registers to keep track of transactions in your personal bank accounts, saving accounts, credit cards accounts, money market accounts, and other financial accounts.
Key Features: (watch video 
below for demo)
Simple easy to use checkbook registers in an Excel spreadsheet format to keep track of your money and personal finances.

Keep track of your checkbook register balances and transactions to prevent an overdrawn account related to a bounced check, debit card purchase or other withdrawal due to insufficient funds and avoid paying overdraft fees and returned item fees.

Option to track income and expense categories and mark transactions as potentially tax deductible and filter and subtotal the transactions that fit those criteria such as filtering by health related expenses such as health insurance premiums which may be used to prepare your income taxes to calculate your itemized deductions.

Ability to filter transactions by different fields such as a date range and amounts in the Excel checkbook register templates.

Easy to see dashboard summary of account register balances and total assets, total liabilities, and total net worth in the accounts.

Excel formulas do the calculations saving you time and preventing errors

Checkbook software helps reconcile accounts with easy to see check mark indicators of reconciled / cleared transactions to simplify account reconciliation and also see a list of outstanding checks and other outstanding items. In addition to making sure your account register balance is up to date and accurate, reconciliation is important to spot errors that you may have made, fraudulent account activity such as someone making an unauthorized purchase with your debit card, or catching bank errors. This can help you save money and reduce debt.

Each checkbook register has summary amount totals at the top so you can easily see the register balance, the dollar amount of total cleared transactions, the dollar amount of total outstanding transactions and the total number (total count) of transactions outstanding. These totals help make for a more simple account reconciliation process whether you a doing a bank account reconciliation or credit card account reconciliation.

Add up to ten checkbook register accounts to manage and track your home finances.  Each checkbook register can use up to 4000 rows to enter your financial transactions.

The check book registers can also be used to create a cash account to track cash purchases and cash spending.

Checkbook register templates can be used to record and keep track of many types transactions whether writing a check, paying a bill online through online bill pay, automatic bill payments, automatic deposits, cash withdrawals, debit card purchases, ATM card purchases, bank service fees, credit card purchases, credit card payments and many other types of account inflows, outflows, debits and credits.

Checkbook software helps your balance your checkbook register and compare to your monthly bank statement or balance your credit card and compare to credit card statement. Reconcile accounts including balance your checking accounts is an important part of your personal finances and the checkbook software has macros that simplify the process.

Whether you do your banking at a local credit union or large bank like Chase, Citibank, or Bank of America, keeping track of your financial transactions in a checkbook register is important to make sure that any potential errors are discovered whether you or the bank made them.

This Excel checkbook register with categories is already created for you, saving you time so you do not have to figure out how to make a checkbook register in Excel or all the Excel checkbook register formulas. The time saving tools of the Excel checkbook register can help you spend less time on managing your personal finances and more time on things like making money.

For those you enjoy Excel spreadsheets, this checkbook register spreadsheet is another option when comparing to other checkbook software programs or a checkbook app.

With the appropriate version of Excel, Georges Excel Checkbook Register can be stored on and used from your computers hard rive (whether it is a desktop computer or laptop computer) so that you are more in control of the security of the Excel file.  You also have the option to store the Excel file in the cloud and access it via Dropbox or Microsoft OneDrive thus being able to access the Excel file from different locations as long as you have the proper version of Excel installed on the computer that you are accessing the file from and internet access.  However in this case, you are loosing some control as you are storing the file on a computer or server that you do not own.  If you choose to use this method, make sure that you use strong passwords to protect the Excel file and your personal information and only access the file from a computer that you own. Whether you store and use the file only on your local computer or store it online, I would not save any detailed personal information such as account numbers in the checkbook registers. Consider this Excel checkbook spreadsheet when searching for the best checkbook register software. Simple checkbook ledger spreadsheet.

Georges Excel Checkbook Register is sent via digital download and after your purchase you can download the software.
System requirements:
PC with Microsoft Excel 2010, Excel 2013, Excel 2016, Excel 2019, Excel 2021, 

or Excel for Office 365 (Excel for Microsoft 365).


(standalone desktop version of Microsoft Excel or part of Office 365 subscription / Microsoft 365 subscription)
Mac Computer with Microsoft Excel 2019 for Mac, Excel 2021 for Mac, or Excel for Office 365 for Mac (Excel for Microsoft 365 for Mac). You need to have one of these specific versions of Microsoft Excel for Mac.  Not compatible with Apple iPAD.
(standalone desktop version of Microsoft Excel or part of Office 365 subscription / Microsoft 365 subscription)
Supported in the United States, Canada, and Australia as amounts are formatted with the $ symbol.  The Date field in the Excel checkbook registers are formatted as MM/DD/YYYY.
The Mac computer or PC computer should have at least a 3 GHz processor, 8 GB RAM and SSD storage. The Excel checkbook spreadsheet (Georges Excel Checkbook Register v5) might work if the personal computer or Mac computer has less than these computer system requirements but it will be slower due to large amount of Microsoft Excel formulas or it may not work properly.
The Excel checkbook register template is not compatible with Google Sheets (Google Spreadsheets)
The Excel checkbook spreadsheet is not compatible with Microsoft's free "Excel Online" app that is part of the free Office Online apps. These online apps are web browser based and have limited features compared to the full desktop version of Microsoft Excel.
The Excel checkbook software is not compatible with the Excel Mobile app whether using Android or iphone. (Excel mobile app is part of Microsoft Office Mobile apps that allow you to use a feature reduced version of Excel on your compatible mobile phone and smaller tablet devices to review, update, and create spreadsheets). The Excel template requires one of the full desktop versions of Excel listed above in the system requirements.
As long as your computer operating system is using one of the listed compatible versions of Microsoft Excel and meets the other system requirements, it does not matter if you are using a PC Windows computer with Microsoft Windows 11, Windows 10, Windows 8, Windows 7 or an Apple Mac Computer running a particular version of the Apple macOS operating system. While you may be looking for checkbook software for Windows 10 or 11, checkbook software for PC computers, or checkbook software for macOS, with this Excel checkbook template, it is important to verify that you have installed a compatible version of Microsoft Excel. (Please note that Microsoft Excel 2007 is not compatible with Georges Excel Checkbook Register v5)
License Terms and Refund Policy:
By purchasing you agree with the License Terms / Terms of Sale.
By purchasing you agree with the refund policy.
Excel is a registered trademark of Microsoft Corporation.
View full details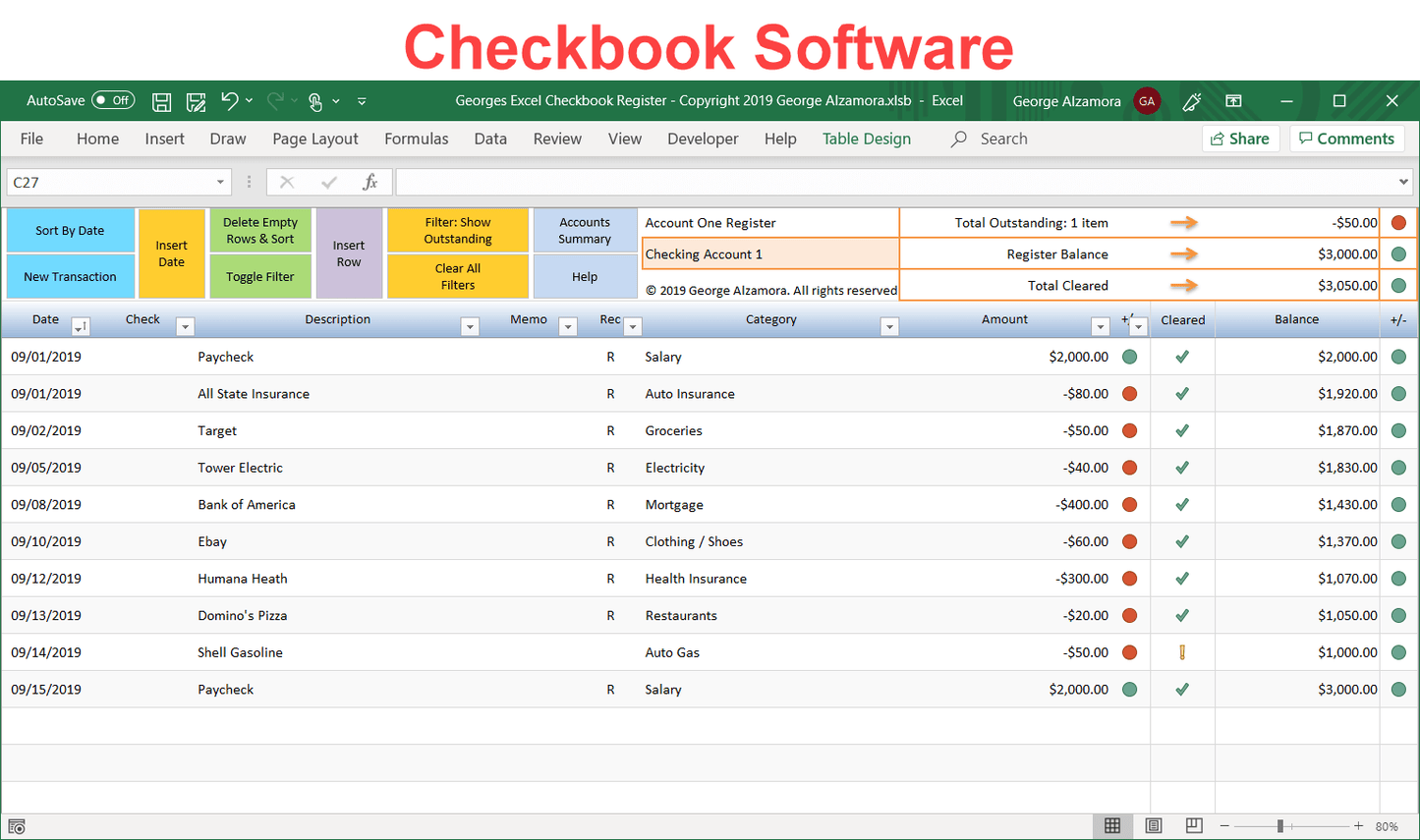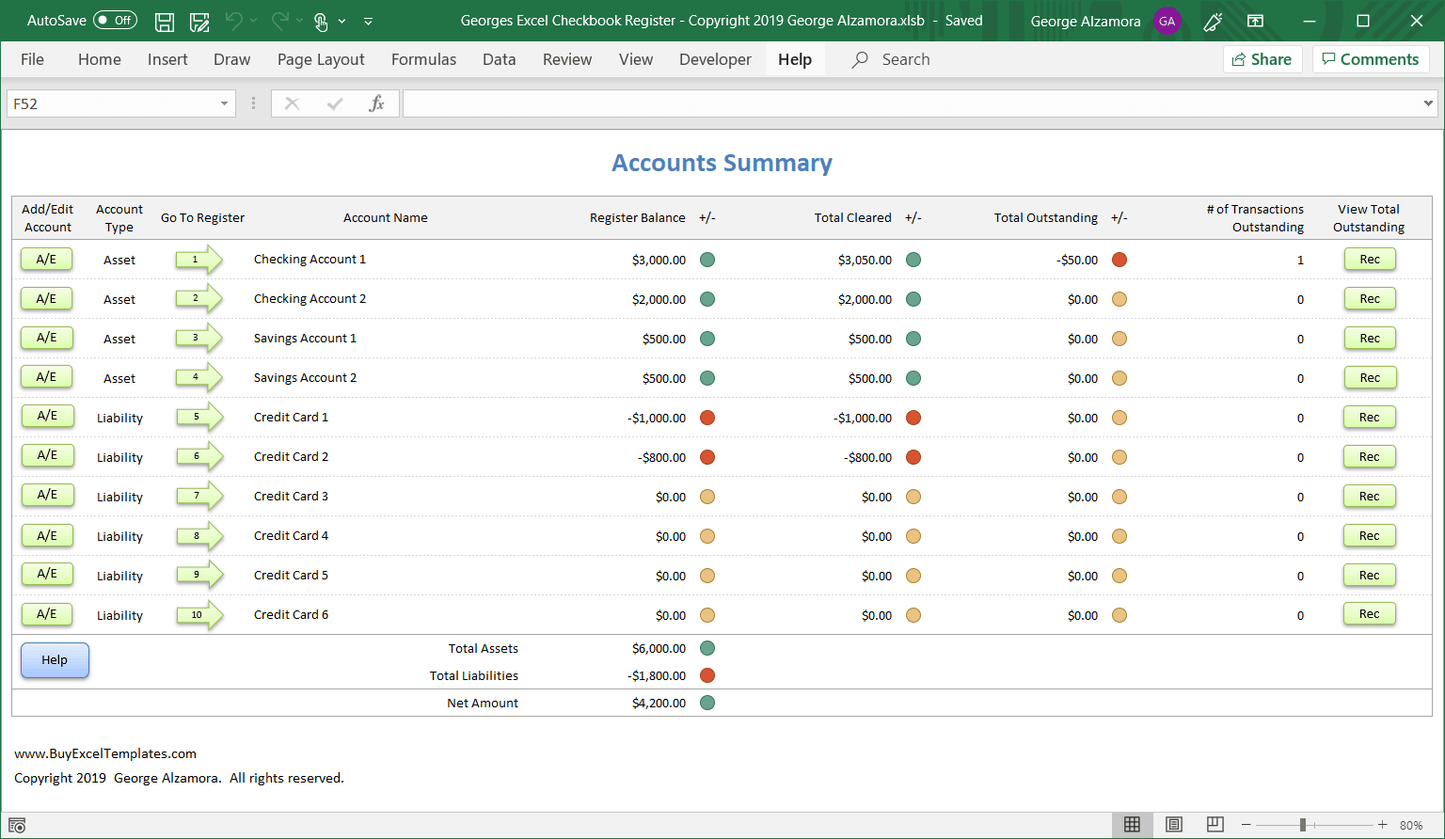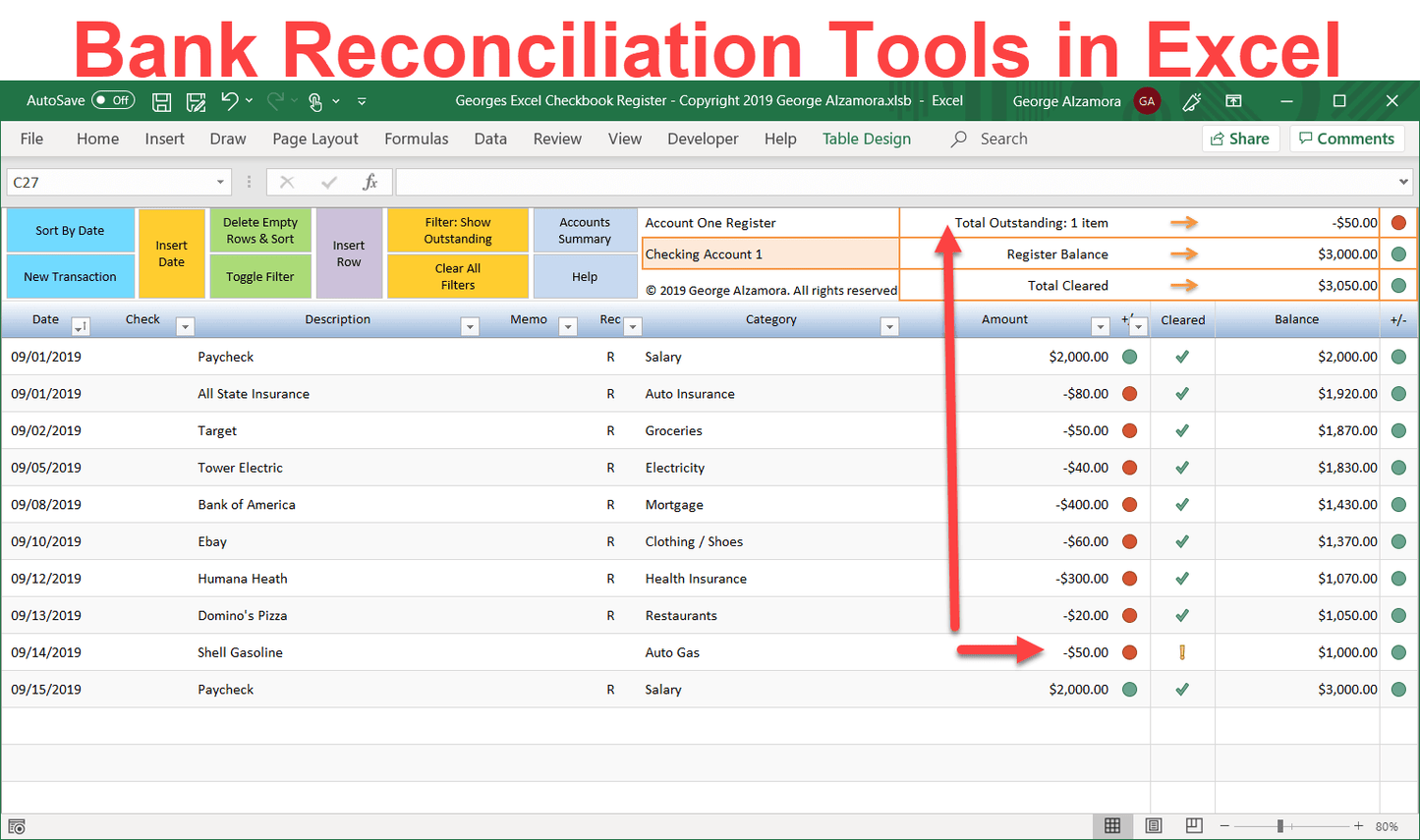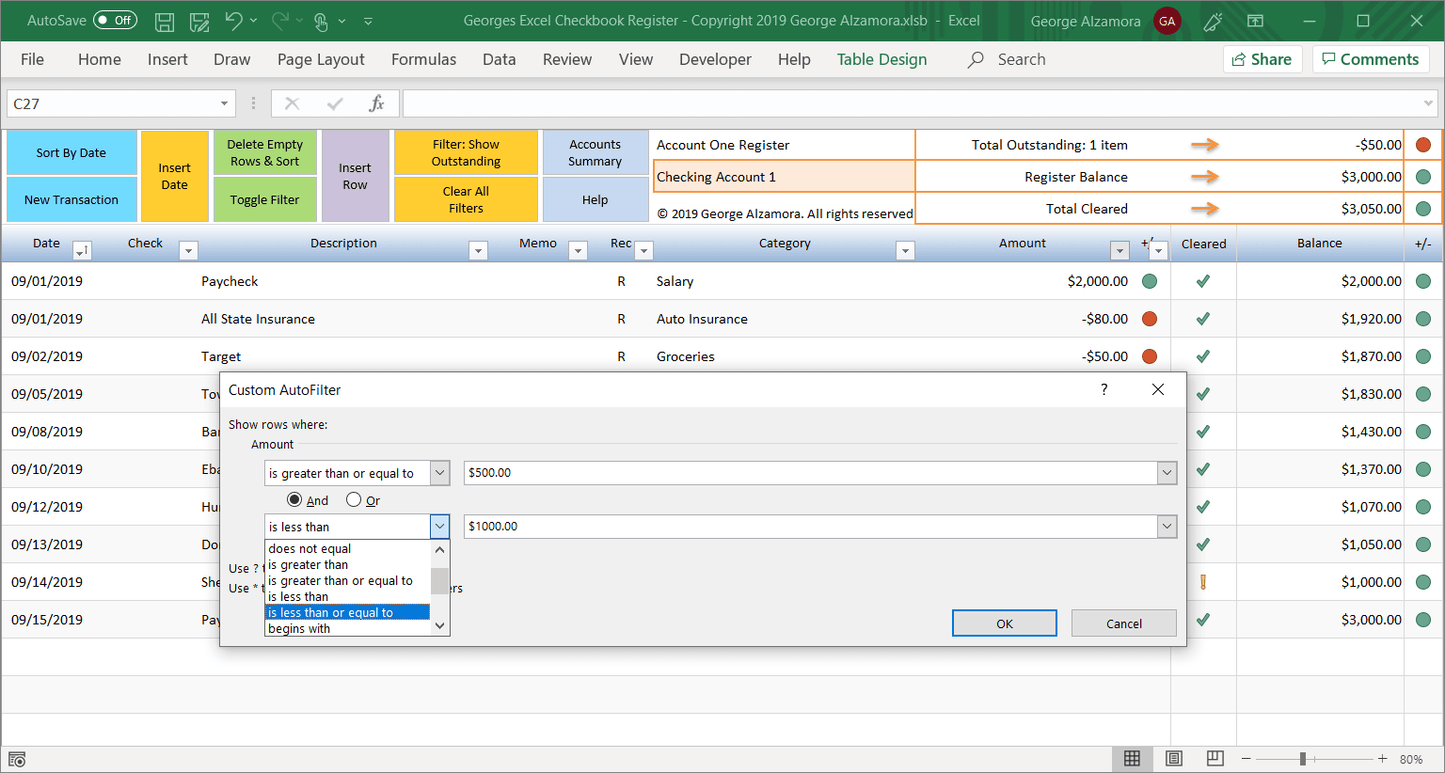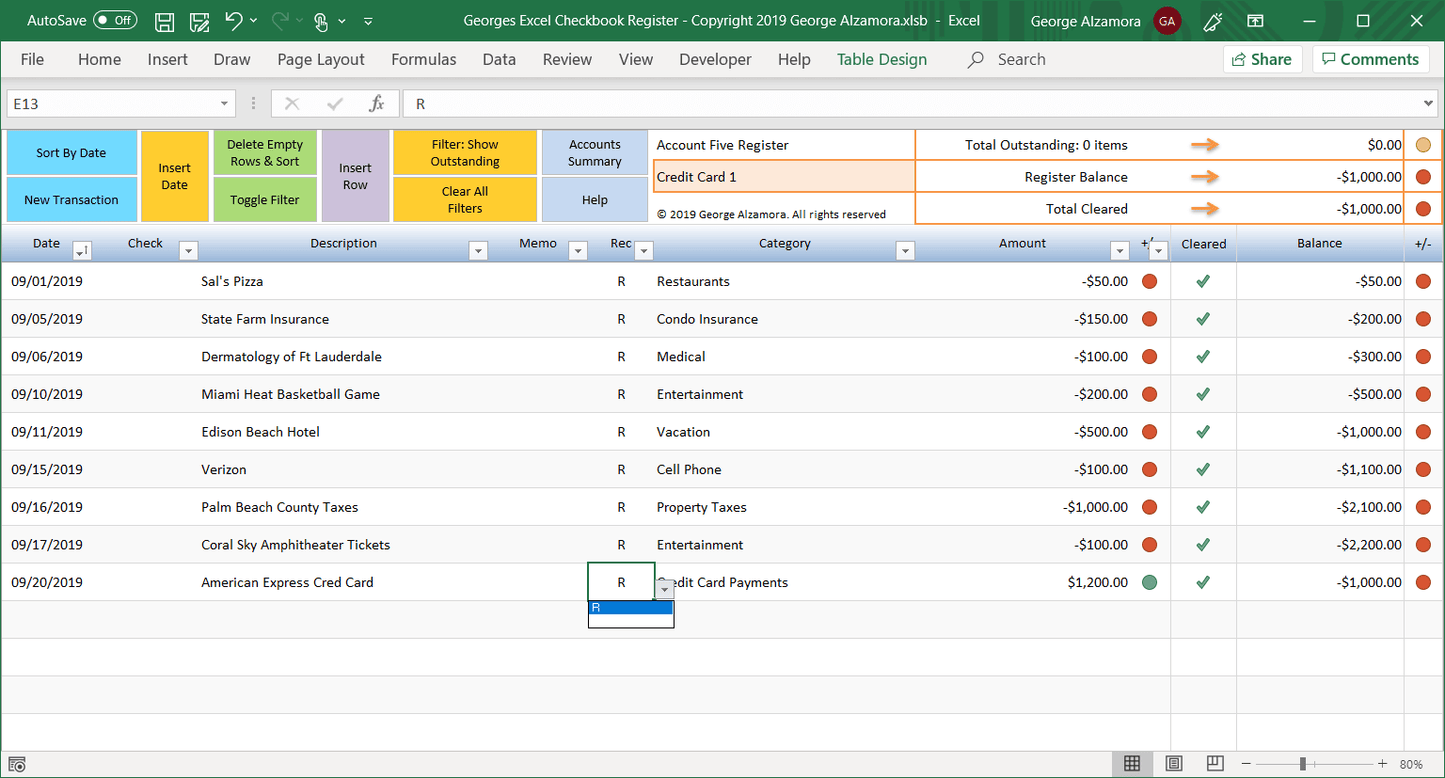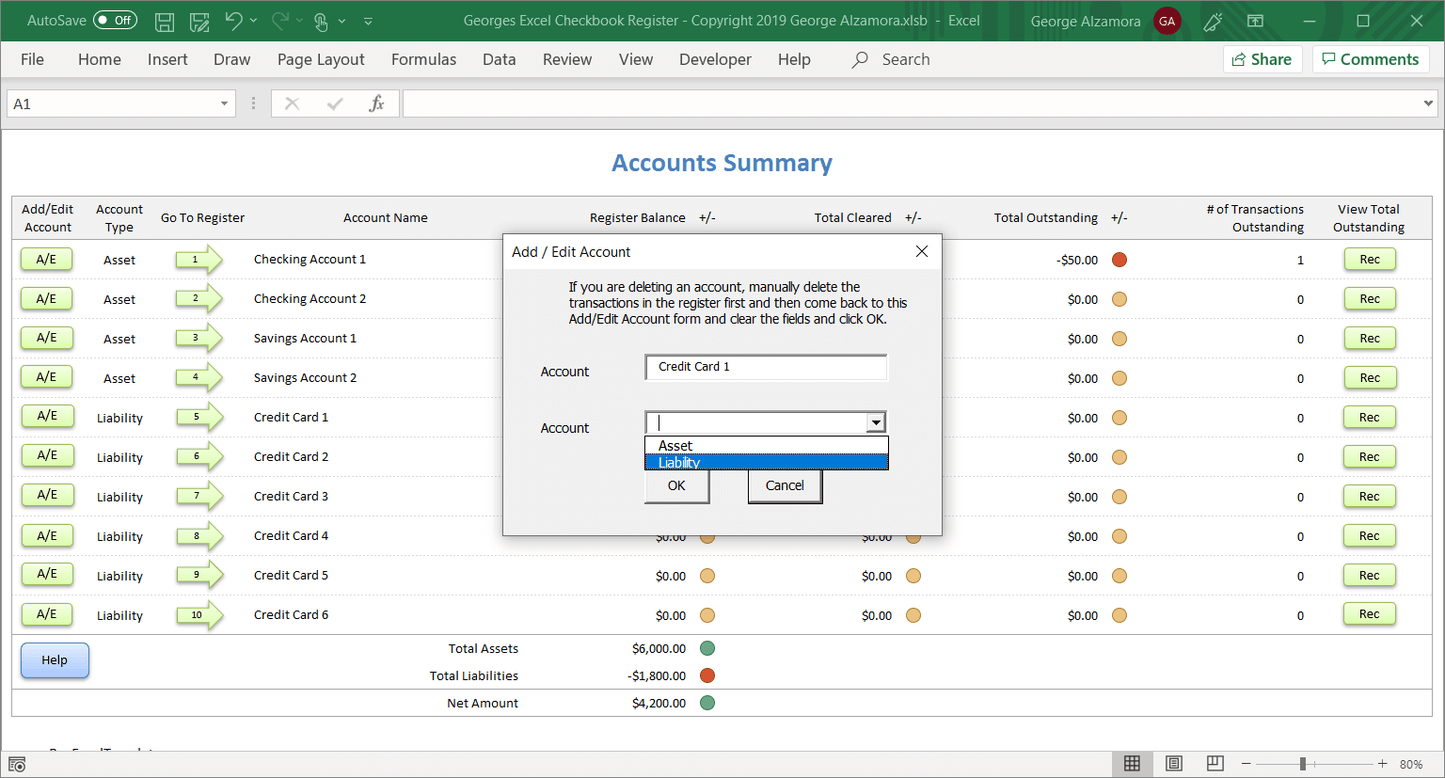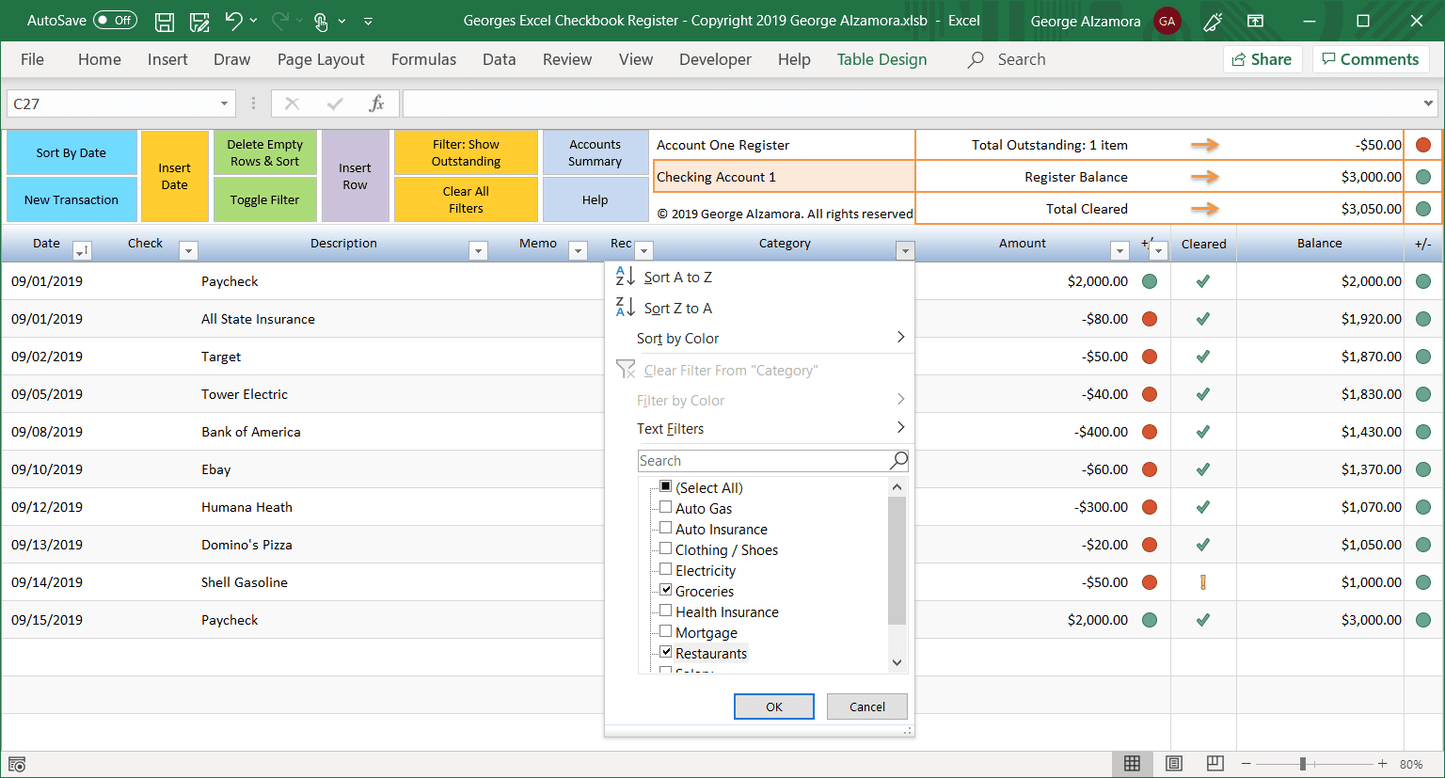 Add to Cart: Select an Option ↑
Video: Georges Excel Checkbook Register v5.0

Great Template!
Simple, intuitive, just what I needed. Bye bye, Quicken!
Hi Bonnie,
Thank you for the great feedback. Happy to hear that you like the Excel checkbook spreadsheet.
George
Great product
Thanks for a great product and fast delivery
Hi Darrell,
Thanks for being a long-time customer of multiple products and for your great review of the checkbook software!
George
Great product
As advertised easy to use
good simple bank ledger that is easy to use
My title says it all. Glad I bought it and moved away from the paper ledger.
Thanks Michael for the 5 star review! Glad that you like the Excel checkbook.
This works well for me
I used Quicken for years but grew tired of the high cost. I was in search of a simple checkbook register program that would make it easy to reconcile and track expenses by category. Without a doubt, this spreadsheet does exactly what I want and has the capacity to do more. I am very pleased.
Great spreadsheet!
Makes balancing account super easy!
Quicken Killer
After 30+ years of Quicken and it's constant mistakes and errors I have found a suitable replacement. Yes I have to fill the cells myself, but takes far less time diagnosing bad programming.
Excellent check template
Have been a QuickBooks Pro user for years but this excel template is so much simpler and easy to use. Very straight forward and efficient. Product support is outstanding as the developer promptly answers questions and has a support page that gives you detailed instructions and tips on using the template. Additionally the developer encourages feedback from users as a way to incorporate new features in updates. Best money I spent on software and was up and running in less than 30 minutes.