Regular price
$ 39.95 USD
Regular price
$ 49.94 USD
Sale price
$ 39.95 USD
Unit price
per
20% Off
Sold out
Monthly budget spreadsheet with checkbook software. Simple Excel money manager app. Just enter your transactions into the Excel checkbook registers and the reports are automatically created to help you both budget your money with budget vs actual reports so you do not overspend and cut expenses where needed. You can also track your wealth growth over time with amazing charts and graphs that shows your net worth over time. Start tracking the growth in your wealth, whether it be your savings account, investments, or home value to help you have the information to make important financial decisions.
Benefits: (watch video 
below for overview)
Simple to use budget software templates to help manage your personal finances.
The money manager spreadsheet has Monthly Budget vs Actual charts allowing you to see where you need to cut expenses and save your money.
Account Summary Dashboard with Excel charts and graphs, give you an overview snapshot view of your finances in one worksheet that helps you analyze your finances.
Trend charts with time periods such as this year reports and last year reports to see if your spending is increasing over time.
Account registers such as Excel checkbook registers and Excel credit card registers allow you to easily enter transactions and assign each transaction to a budget category.
The checkbook software helps with account reconciliation such as marking each cleared / reconcile transaction with a green checkmark to easily distinguish cleared vs outstanding bank transactions. 
The Excel checkbook spreadsheet has a consolidated master register that combines the transactions from the other individual 12 account registers into one master register where you can filter transactions based on the different register fields such as date or budget category. Thus you can filter by all grocery transactions with a specific date period from all, a group of, or one account and then print the filtered results.
The money manager app includes easy pivot table reports that can be customized, so for example you can tag transactions in the Excel checkbook registers into different groups such as tax deductible vs not tax deducible, fixed expenses vs variable expenses, and needs vs wants in terms of spending and run reports that will subtotal those transactions based on how you tagged them.
The money manager spreadsheet allows you track your assets, liabilities and net worth (personal wealth) in charts over time, which is an important tool to helping you grow your wealth, pay off your debts, pay off your mortgage, pay off your credit cards and become debt free and then stay debt free by living on a budget and increasing your wealth.
The checkbook software allows you to split a transaction into more than one budget category. For example, you might want to allocate a purchase into more than one expense category to reflect the different categories of items purchased in a single transaction such food vs clothes.  You can split transactions into both income and expense categories.
The money manager app uses Excel pivot tables to create the best Excel dashboards with charts for managing your personal finances. The new financial dashboards for managing your net worth are simple to use personal wealth dashboards.
In the money spreadsheet app, the Excel dashboard include to ability to set balance goals for each account and an Excel bar chart to track the percent of the balance goal reached. So if you want to save for a new home purchase, save for a down payment on a home, or save for a car purchase than you can use a savings account just for this special larger purchase and also can use this in conjunction with the new net worth tracker to track the balance in the special savings account over time to see how your are progressing towards your having the cash for a large purchase expense.
 New features in Georges Budget for Excel v15:
The money manager software now has net worth tracker charts to track your wealth growth for each asset and liability account so you can visually see your net worth over time in charts and in the detailed data right below the charts. Its important to know where you stand financially and one important financial tool to help you see this is knowing what your net worth. The software not only allows you to see what your net worth is today but what your net worth is over a period of time so you can see the trends in your net worth and whether are not your assets are growing or declining over time and whether your liabilities and debts are declining or increasing. A good example of this is tracking your financial investments such as the value of your retirement account over time. Assets and Liability accounts that you can track includes your home value, home mortgage debt, car loans, retirement accounts, 401Ks, and Roth IRA's. Just enter the value of the investments. The wealth tracker charts will track the value of your cash accounts such as your checking accounts and savings accounts over time. If you have a goal to save money for a particular upcoming large expense such as a home purchase or new car, you can open a savings account, transfer money into the savings accounts when available such as a monthly basis, and grow the amount of cash in your saving account. With the net worth tracker, you can visually see in chart form the growth over months and years of the savings account balance. This is much more valuable than just seeing the value at just one point in time, because you get to see in a graph the value over a period of time. The wealth tracker charts will track the balances in your credit card accounts over time. So for example, if you are trying to pay down your credit card debt, you can track your credit card balances in an Excel chart over time to and visually see how your credit card debt is declining. In the net worth tracker charts, you can track individual accounts growth, combined select accounts such as home value and home mortgage to see home equity growth, or track all accounts in one combined total or separately in on chart. So to track an asset or debt account, just use one of the account registers to track your cash accounts, savings, credit card accounts, house value, home mortgage principal owed, and investment accounts etc. So for example, with your home, you can enter the initial purchase price in the register and then at different time intervals such as monthly, quarterly or yearly, you can enter the home value increases or home value decreases in the amount field and in the running balance field, it shows the estimated home value based on the data you enter in the registers and the wealth tracker chart will show your estimated home value based on the data you entered in the registers. The Excel wealth tracker can also create stacked column charts so you can see your asset allocations and debt allocations relative to one another when comparing you account values over time. The net worth tracker does not track the gains and losses from buying and selling individual stocks or cryptocurrencies but is for keeping track of balances in investments accounts such as when you get a monthly or quarterly report from your financial retirements accounts that show the beginning account balance and the growth or decline in the account balance due to for example increased in the stock market values.
The monthly budget spreadsheet now has 12 accounts. Two additional accounts / registers have been added for a total of 12 registers that you can use to track your financial accounts. Having those additional accounts can be beneficial if you want to also track your total net worth with other assets and debts such as your home value, mortgage loan principal owed, and other financial investments. The prior version of Georges Budget for Excel had a maximum of 10 accounts.
The Excel checkbook software has a new account reconciliation tool to help you reconcile your bank accounts or reconcile your credit card accounts. In each account register, whether you use it as a checkbook register or credit card account register, there is a new VBA macro button to help your with your monthly account reconciliation. In the Excel checkbook registers, clicking the new button titled "Filter: Show Cleared Items" will filter the register transactions and only show those register transactions that are cleared / reconciled (marked with an R in the "Rec" field) and also give you a subtotal of those filtered transactions that have been marked as cleared / reconciled. 
In budget vs actual reports section of the money management software, you can now view monthly budget vs actual reports and yearly budget vs actual reports up to 3 years into the future based on the future dated transactions that you entered into the checkbook registers. With the custom pivot table reports,  you already had the ability to see reports based on future dated information entered into the registers, however, one of the benefits of the custom pivot table reports is that you can customizes the reports dates by selecting time periods such as Year to Date, and after Today reports. The custom pivot table for wealth tracking of your net worth must be based on all dates that you entered into the registers with the benefit that you can see the trends in your asset and net worth growth over time. This can help you with personal financial planning and financial forecasting to see what if scenarios based on future earnings and expenses that you plan to have and investments growth scenarios.
The menu buttons above the checkbook registers, credit card account registers and all account registers have been updated with both layout and colors to make it easier to enter data in the checkbook registers, navigate to other sections of the budget software, and reconcile your bank account thus saving you time when managing your money. The checkbook software menu buttons are organized into 3 sections. The first section for navigating and performing tasks in the checkbook registers, the second section for navigating to other worksheets in the money management software, and the third section for helping your complete your monthly account reconciliation.
In checkbook software software, all the registers now have a new button to click called "Go To Today". Clicking the "Go To Today" button sorts the transactions in the Register by oldest date to newest date and then takes you to the section of transactions in the Register that contains Todays date in the Date field or the date closest to Todays date in the Date field (after sorting, the transactions with the oldest dates will be at the top of the Register). Some people like to forecast future cash flows by entering future dated transactions in the account registers to see if they will have enough money to cover their expenses based on estimated future earnings and estimated future expenses. This feature will help you easily navigate to todays date or near todays date if there are no transactions dated with today's date in the registers.
Added Account Name Excel slicer to the custom Pivot Table report so you can easily filter your reports to show data from all accounts (registers), a group of accounts (registers), or just one account. Excel slicers make it very easy to filter your data by accounts, because the account names will be visible to you to select with just a mouse click as apposed to being hidden in a drop down filter button in the Pivot Table report. For example, if a husband and wife keep separate accounts and each have their own checking accounts, savings accounts and credit card accounts, you can easily select just one of the spouses accounts and the custom pivot table reports will show data such as monthly Income vs Spending reports just for the selected accounts.
The budget app spreadsheet makes account reconciliation easy. Whether you do your business or personal banking with large international banks such as JP Morgan Chase Bank or Bank of America, small local banks or credit unions, the banks and credit card companies can make mistakes with your financial accounts such as double charging or over charging for a purchase that you made or crediting your account for less the amount of the deposit. That is why reconciling your bank account and reconciling your credit card accounts is very important to helping you catch those bank errors and credit card company errors when using the features of the Excel budget spreadsheet.
The money manager spreadsheet app allows you to add your own custom budget categories. You can add up to 50 income categories and up to 200 expense categories. The budget app comes filled in with common sample budget categories in the custom category list section but you can easily edit, add, or delete your own custom categories. Once your categories are in the Category List worksheet, when entering transactions in the checkbook registers, you can easily select a category from a drop down list of categories saving you time when entering transactions.
The money manager app makes it easy to get data into the checkbook software by either manually importing the transactions into the checkbook registers or entering the transactions directly into the cells of the account registers. The rest of the reports are automatically create and ready for you to analyze and customize so you can save time and save money.

Comparing budget software programs that manage your money involves looking at the different features and seeing with program has the features that you need to best help your with your personal finances. One of the nice benefit of Georges Budget for Excel v15 is the one time purchase price. Many personal finance apps charge a continuous monthly fee also know as a monthly subscription fee to use the software. Over time, these subscription fees add up and when you are trying to live on a tight monthly budget and cut expenses, monthly subscription fees and yearly subscription fees are a great place to start cutting.
Are you ready to take control of you finances and gain financial freedom? Many personal finance software programs are filled with many features, most of which you may never need or use, and all those features make the software harder to learn and use. Georges Budget for Excel v15 is very simple to use and is an Excel template, so it uses Microsoft Excel and powerful Excel formulas that save you time when managing your money and your monthly budget. The tools in the personal finance spreadsheet put the power in your hands to make financial decisions based on the amazing personal wealth dashboards and knowing what the value is of your assets and debts and setting financial goals to grow your cash and pay down your debts and gain financial freedom. 
System Requirements:
PC (Microsoft Windows computer) with Excel for Microsoft 365 (previously named Excel for Office 365). (part of Office 365 subscription / Microsoft 365 subscription) or Microsoft Excel 2021
Mac Computer with Excel for Microsoft 365 for Mac (Excel for Office 365 for Mac) (part of Office 365 subscription / Microsoft 365 subscription) or Microsoft Excel 2021 for Mac. You need to have one of these specific versions of Microsoft Excel for Mac. Not compatible with Apple iphone or Apple iPAD. 
PC and Mac should have minimum 3 GHz processor, 8 GB RAM and SSD storage. The home budgeting spreadsheet (Georges Budget for Excel v15) may work if Windows computer or Mac computer has less than these system requirements but it will be slower due to large amount of Excel formulas and the Excel template may not work.
The money management software is supported in the United States, Canada, and Australia as amounts are formatted with the $ symbol and Dates are formatted as MM/DD/YYYY.
If you are using a Windows computer, you need Windows 10 (64 bit version), or Windows 11 (64 bit version) and Excel for Microsoft 365 (64 bit version)

as apposed to the 32 bit versions

. If you are using a Mac computer, you need Mac OS (64 bit version) and Excel for Microsoft 365 for Mac (64 bit version) as apposed to the 32 bit versions.
The Excel template is not compatible with Google Sheets (Google Spreadsheets)
The Excel budget template is not compatible with Apple Numbers spreadsheets
The home budgeting spreadsheet is not compatible with Microsoft's free "Excel Online" app that is part of the free Office Online apps. These online apps are web browser based and have limited features compared to the full desktop version of Microsoft Excel.
The Excel budget template is not compatible with the Excel Mobile app whether using Android or iphone. (Excel mobile app is part of Microsoft Office Mobile apps that allow you to use a feature reduced version of Excel on your compatible mobile phone and smaller tablet devices to review, update, and create spreadsheets). The Excel template requires one of the full desktop versions of Excel listed above in the system requirements.
Whether you are using a PC with Windows11 or Windows 10 or a Mac computer with the latest Apple macOS operating systems, the key is to make sure your operating is compatible with one of the listed compatible versions of Microsoft Excel and that your computer meets the hardware specs whether you are using a laptop computer or desktop computer.
License Terms and Refund Policy:
By purchasing you agree with the License Terms / Terms of Sale.
By purchasing you agree with the refund policy.
Excel is a registered trademark of Microsoft Corporation.
View full details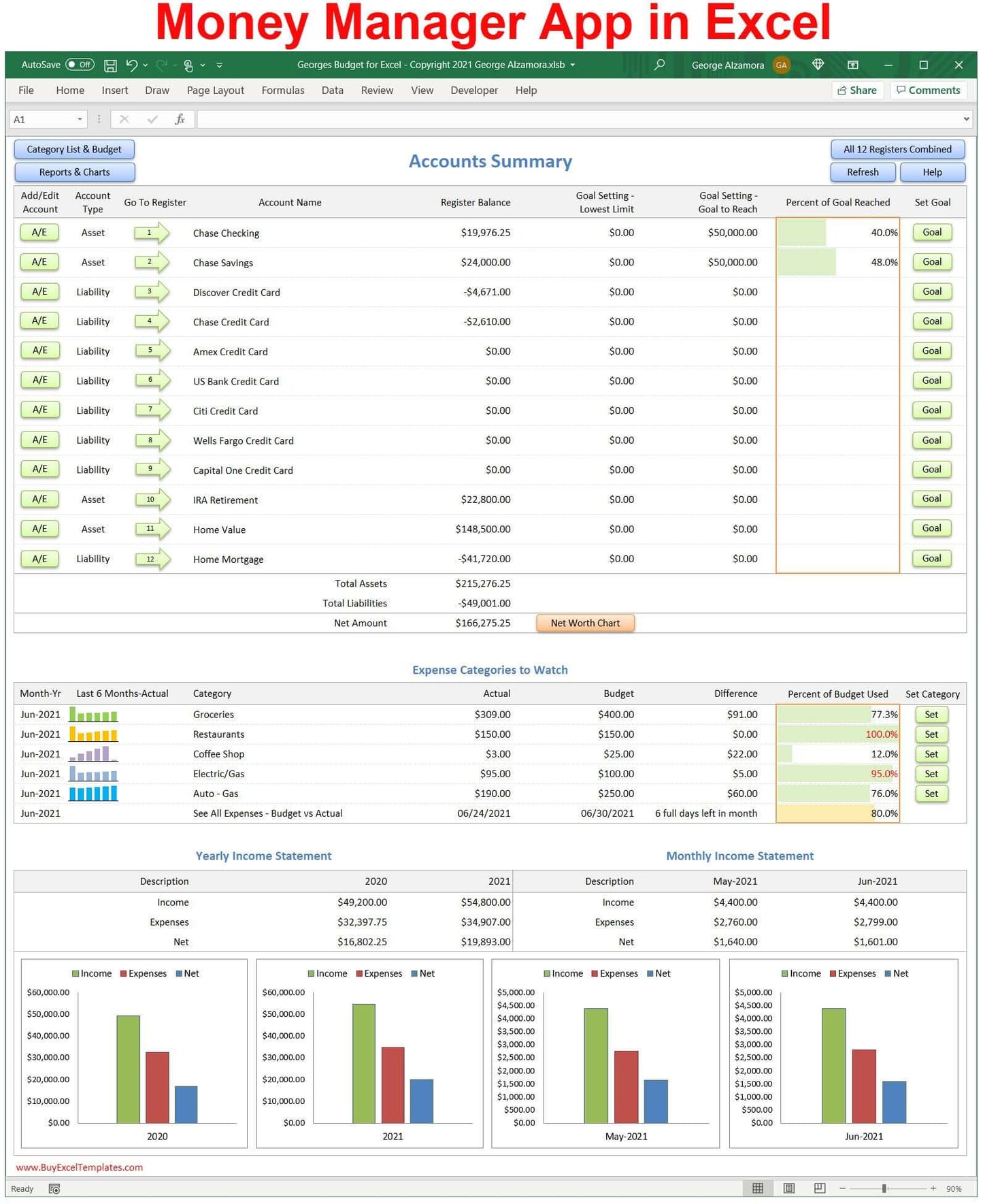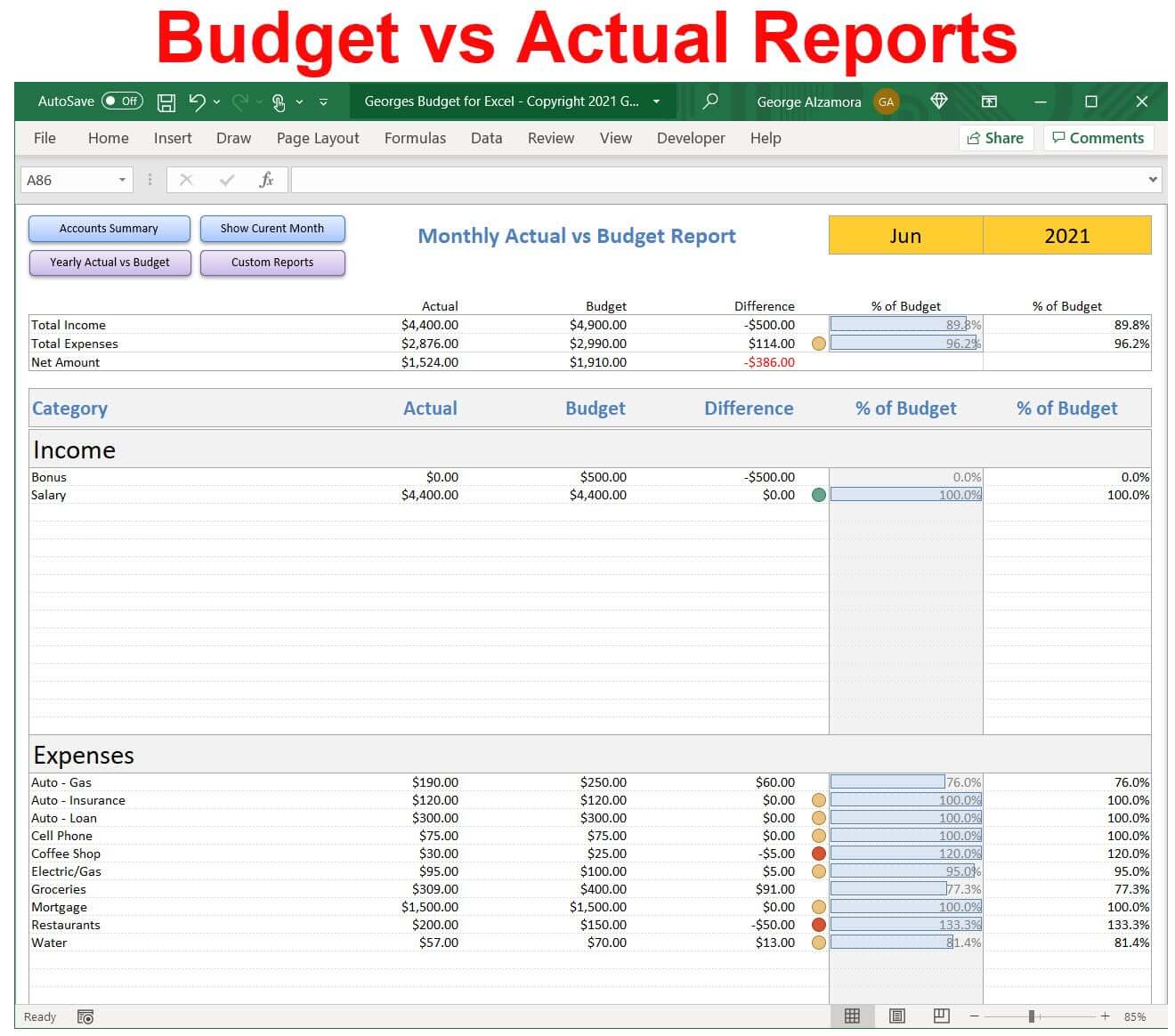 Add to Cart: Select an Option ↑
Video: Monthly Budgeting Spreadsheet with Checkbook Registers

CURRENCY CHANGE
Is it possible to Change the currency
Excel v15 Great!
Good product! Thanks for your work on making this!
Still the best!
George's v15 is yet another outstanding piece of BuyExcelTemplates by George! You can't go wrong with this version and product. I love all the enhancements in this version. Keep up the great work!
Works Great With Limatations
If you want to track your spending and don't have alot of accounts to keep track of then this is the perfect solution. The catagoryl list is complete customizable to create reports on what's important to you in regards to budgeting. Having the net worth statement now is a valuable tool. The only thing I would add is a separate place to add securities and let excel calculate the current value since newest versions of excel can do this. If your looking for a Quicken replacement. This is probably not ideal for you with its limitations. But for budgeting and recording transactions. It will fill your needs as long that you don't have alot of accounts or assets to keep track of.