Regular price
$ 44.95 USD
Regular price
$ 56.19 USD
Sale price
$ 44.95 USD
Unit price
per
20% Off
Sold out
Simple checkbook spreadsheet with advanced personal financial tools to help you manage your financial accounts and answer money questions such as how much has our net worth increased, are you living paycheck to paycheck and are you able to save money and set up an emergency fund?
Checkbook Spreadsheet Top features:

Checkbook account tracker spreadsheet
Multi account checkbook software
Includes a separate combined register of all transactions from all accounts so you can search for a particular transaction in one place.
Spending Reports and Excel charts automatically generated
Checkbook with category reports and charts
Checkbook with Income and Expense reports and charts
Checking with savings reports and charts
Checkbook includes net worth tracker.
Checkbook register running balance automatically calculated
Easily balance your checkbook
Checkbook software is a one time purchase. (no recurring payments required)
Checkbook included pivot table income and expense reports and charts that can be customized by the user
Checkbook includes categories that can be customized by the user.
New features of Georges Excel Checkbook Register v10: (watch video  below for overview)
Awesome Charts and Personal Financial Reports that are already designed for you to help you visually see a snapshot of your finances and wiser money decisions.
New Feature #1: New Income Tracker / Expense Tracker / Savings Tracker Dashboard with Excel charts and tables that is instantly generated to help you save time and save money. The dashboard includes:
The following time periods for the checkbook spreadsheet charts and table:

This Year
Last Year
Last 12 Months
Benefits include:

The checkbook Excel line chart shows cumulative income, expense, and net amounts so you can view running totals for the entire calendar year vs just a single month.
The checkbook shows trends in your data using the charts (such as overall spending is going up more than my income)
The checkbook dashboard current period data is emphasized.
The checkbook dashboard Table Report includes grand totals for the selected period and green/red up down indicator arrows to show positive or negative net amounts. The Cumulative Chart running totals start at the beginning of the selected time period.
New Feature #2: New Checkbook Dashboard Report to track Income and Spending Categories and compare This Year to Last Year and Last Year to Two Years ago to see financial trends in your money. The dashboard includes:
The checkbook spreadsheet time periods include:

This Year vs Last Year
Last Year vs 2 Years Ago
Within the selected time period, the checkbook spreadsheet can display and compare:

Any single category such as: 2022 Job Income vs 2021 Job Income
Total Income such as 2022 Total Income vs 2021 Total Income
Total Expenses such as 2022 Total Expenses vs 2021 Total Expenses
Net Amount / Savings such as 2022 Net Amount vs 2021 Net Amount
The Checkbook Charts and Tables include:

Actual amounts comparison between time periods
(monthly and yearly) (including cumulative amounts)
$ Differences between time periods
(monthly and yearly) (including cumulative amounts)
% Differences between time periods
(monthly and yearly) (including cumulative amounts)

The checkbook account tracker spreadsheet allows you to compare your Total Income This Year vs Total Income Last Year with month to month and yearly totals and see the $ and % differences between the two time periods.

The digital checkbook Table Reports includes green/red up down indicator arrows to highlight positive or negative dollar amounts. The Excel Cumulative Charts and Table running totals start at the beginning of each calendar year and current year amounts are highlighted in table to easily see what is happening now so you can make timely financial decisions.
New Feature #3: Improved navigation to and from the Income and Spending Reports.
Checkbook Spreadsheet Additional Features:. 
The Checkbook Account Tracker Spreadsheet can track up to 12 accounts including checking accounts, credit card accounts, savings accounts and other financial bank accounts.
The checkbook spreadsheet includes Excel pivot table reports which are automatically generated but also can be customized by the checkbook spreadsheet user to fit your particular financial situation. Customize things such are report time period, which accounts to include the reports, and custom chart types such as Excel bar charts or Excel pie charts.
The checkbook dashboard reports are predesigned and automatically calculated giving you a quick overview of your personal financial situation.
The digital checkbook includes simple reconciliation tools to make balancing your accounts easier.
The checkbook spreadsheets allows you to add, delete and rename the categories so you are in control of the category reports. You can add up to 50 income categories and 200 expense categories.
Checkbook account tracker can record and track all types of transactions including credit card purchases, credit card charges, credit card payments, credit card fees, credit card interest, bank deposits, income deposits, check deposits, direct deposits, cash deposits, check payments, overdraft fees, ATM cash withdrawals, debit card purchases and transactions, online purchases and more.
The checkbook spreadsheet can track both assets such as cash in a checking account or money market account and liabilities such as credit card debt or car loan debt.
Checkbook Spreadsheet System requirements:
PC (Microsoft Windows computer) with

Microsoft Excel 2021 (one time purchase) or 

Excel for Microsoft 365

 

(part of Microsoft 365 subscription)
Mac Computer with

with 

Microsoft Excel 2021 (one time purchase) or 

Excel for Microsoft 365

 

(part of Microsoft 365 subscription)

. 

You need to have one of these specific versions of Microsoft Excel for Mac. Not compatible with Apple iPhone or Apple iPAD due to the Excel VBA macros not yet compatible on those mobile devices.
Supported in the United States, Canada, and Australia as amounts are formatted with the $ symbol.  The Date field in the Excel checkbook registers are formatted as MM/DD/YYYY.
The checkbook spreadsheet is not compatible with Google Sheets 

(Google Spreadsheets)

as the Excel file contains custom Excel VBA macros and Excel functions and Excel formulas not compatible with Google sheets.
The Excel checkbook spreadsheet is not compatible with Apple Numbers spreadsheets.
The checkbook spreadsheet template is not compatible with Microsoft's free "Excel Online" app that is part of the free Office Online apps. These online apps are web browser based and have limited features compared to the full desktop version of Microsoft Excel.
The checkbook spreadsheet template is not compatible with the Excel Mobile app whether using Android or iPhone. (Excel mobile app is part of Microsoft Office Mobile apps that allow you to use a feature reduced version of Excel on your compatible mobile phone and smaller tablet devices to review, update, and create spreadsheets). The Excel template requires one of the full desktop versions of Excel listed above under the system requirements.
The PC computer or Mac computer should have minimum 3 GHz processor, 8 GB RAM and SSD storage. Georges Excel Checkbook Register v8 requires those computer specs in order to run correctly.
The operating system (Windows 11, Windows 10, macOS) that you are using needs to be compatible with one of the required Microsoft Excel versions.
Install the 64 bit version of Microsoft Excel and the 64 bit version of your operating system for best performance. These 64 bit software versions are typically installed by default.
License Terms and Refund Policy:
By purchasing you agree with the License Terms / Terms of Sale.
By purchasing you agree with the refund policy.
Excel is a registered trademark of Microsoft Corporation.
View full details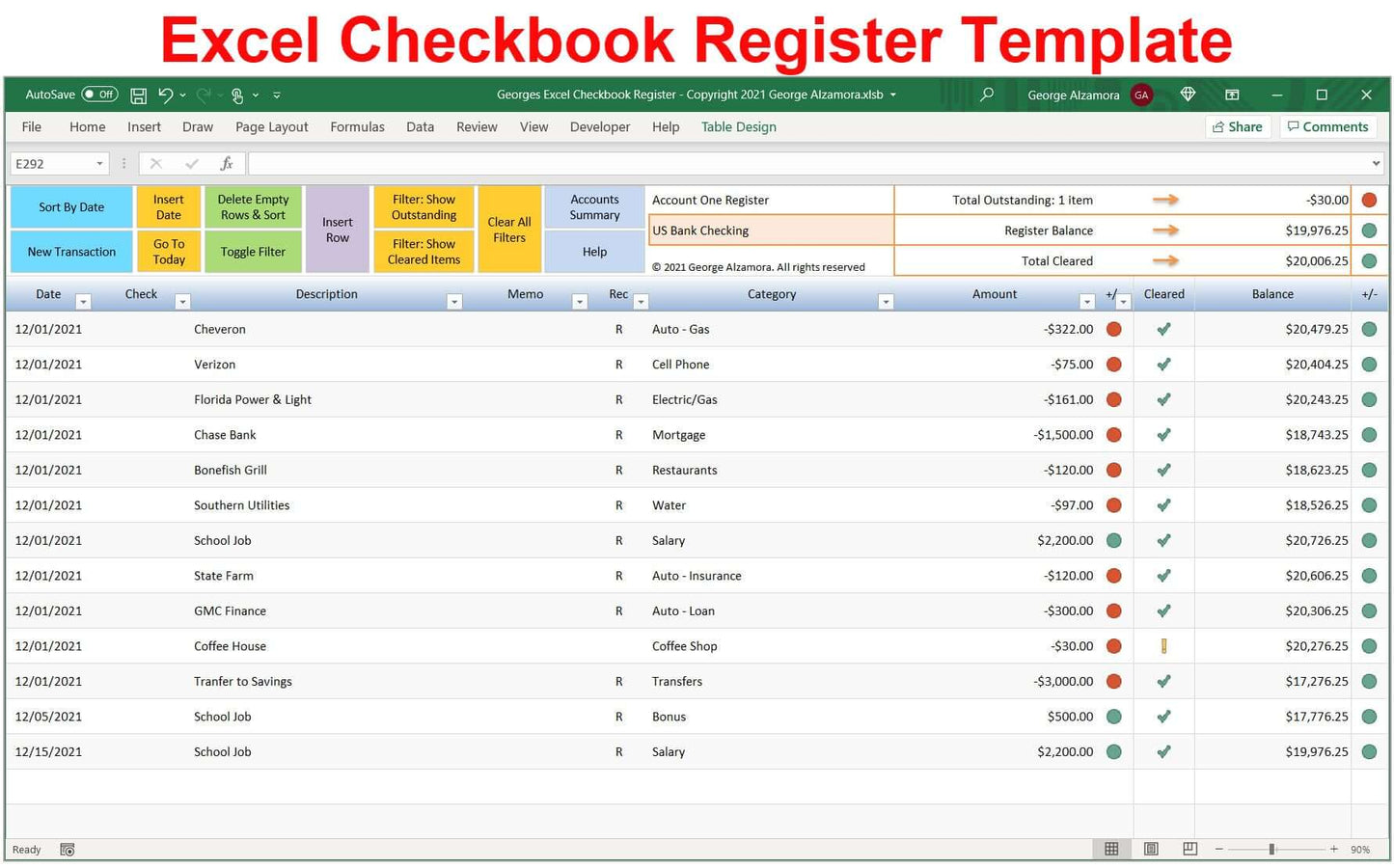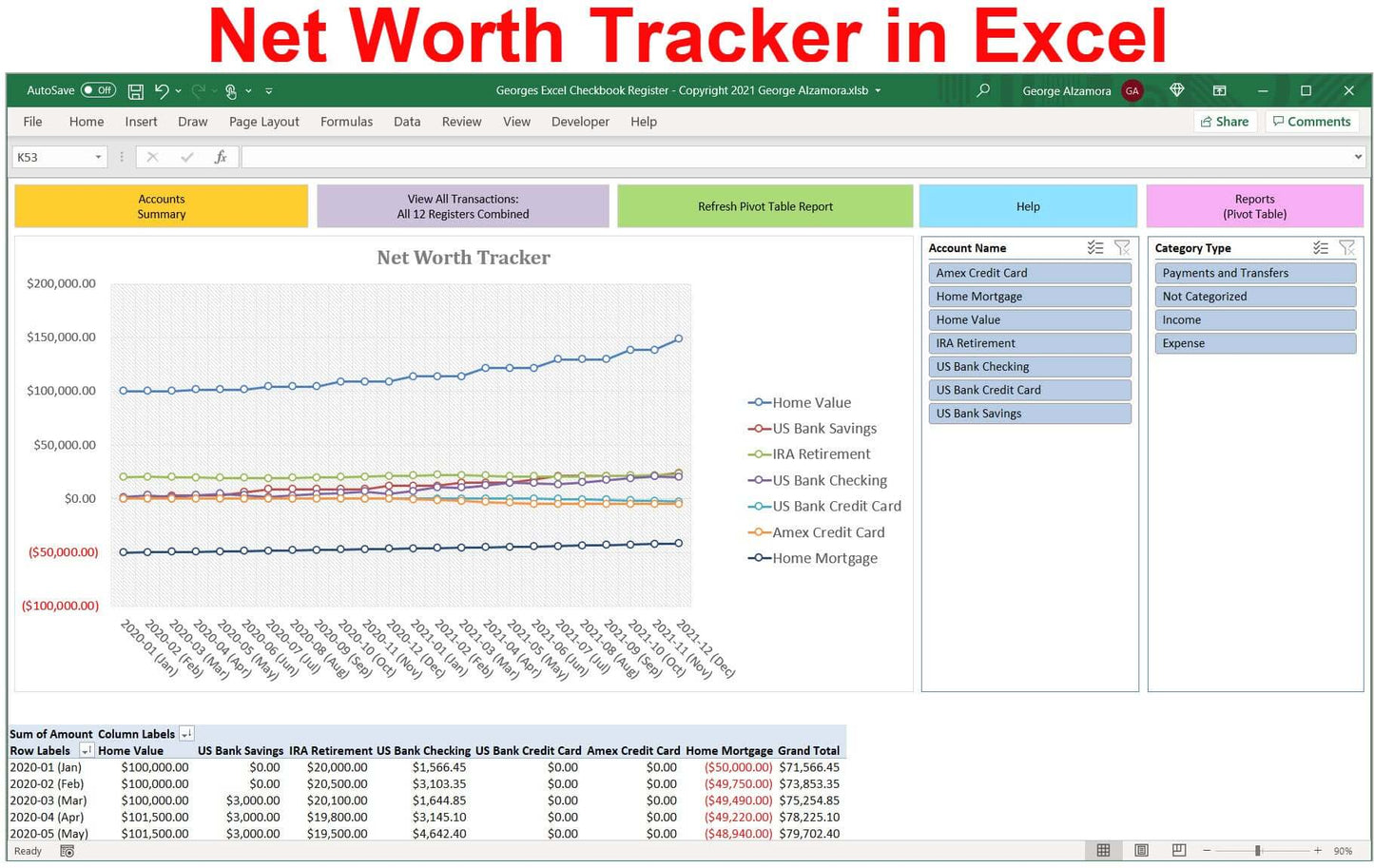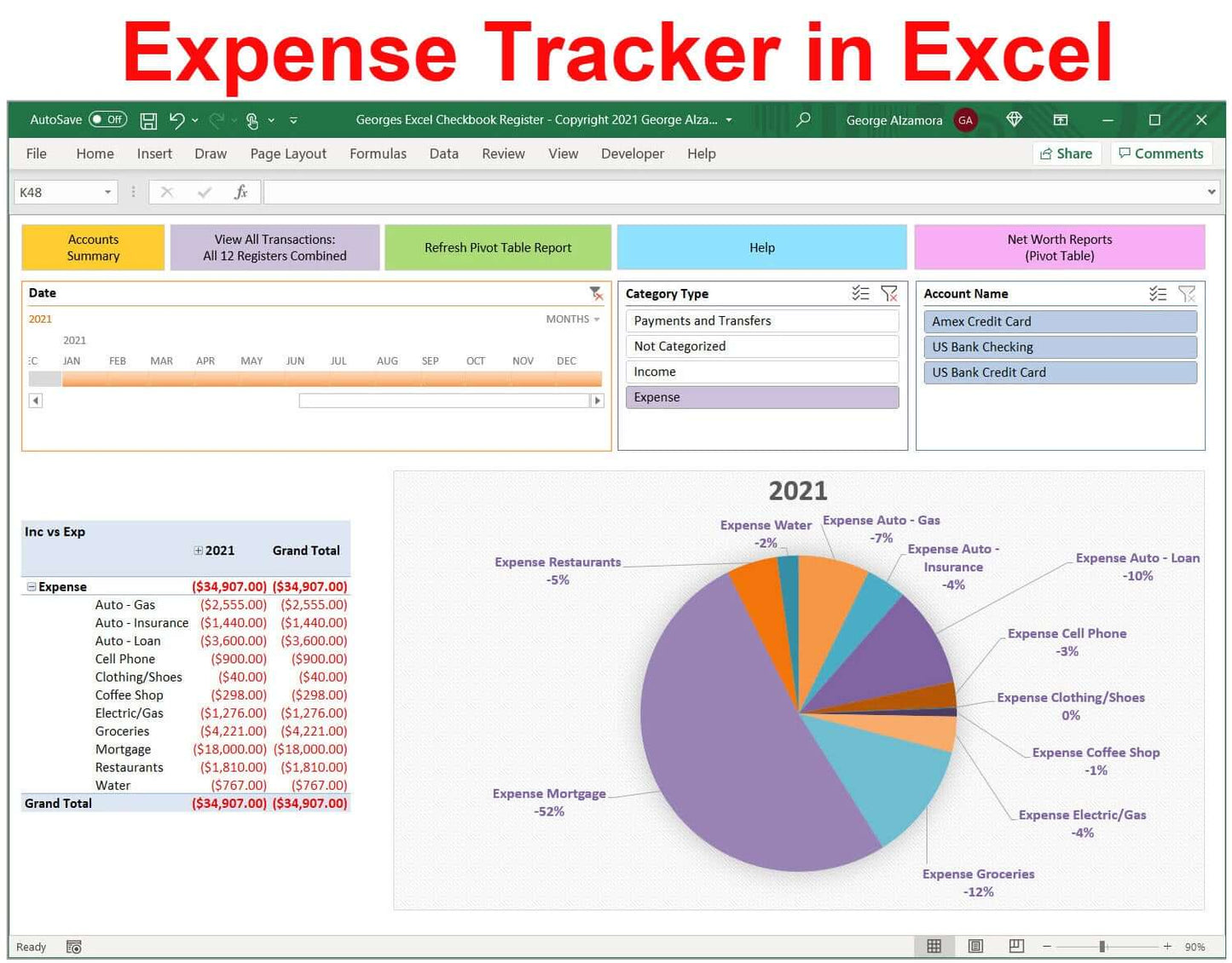 Add to Cart: Select an Option ↑
Video: Checkbook Register Spreadsheet | Income & Spending Tracker

Excellent Products and Customer Service
For many reasons, I stopped using Quicken when they moved to a subscription-based model, and ever since have been searching for an Excel template that would help me manage my personal finances. I wanted something that was easy to use and understand, but that was robust enough to accurately track income and expense AND provide reports to give me a snapshot of the year's activity. Nothing I found could really come close. That is, until I stumbled upon the templates created by Mr. Alzamora. It's an understatement to say I've been blown away by his products and the expertise he's put in to creating them. I initially purchased one of the checkbook registers, but then realized that I needed the budget + checkbook register to be able to have the split category function that was so important to me. Both products are easy to use and understand right from the get-go, and it's really just a matter of personal preference as to which one you need. I had several questions at first, and George was quick to respond with help and suggestions – wonderful customer service all the way through! Can't say enough good things about these products and service. Thank you!
Hi Gail,
Thank you for your awesome review! I appreciate you taking the time to leave feedback for the Excel checkbook app. I'm glad that you enjoy the software and I hope to make it even better in the future.
George