Regular price
$ 29.95 USD
Regular price
$ 37.44 USD
Sale price
$ 29.95 USD
Unit price
per
20% Off
Sold out
Monthly family budget spreadsheet planner helps organize your personal finances and stay on budget so you don't overspend. Visually track your monthly income and expenses with simple Excel charts and graphs. Includes a personal finance dashboard to get a quick snapshot of money in Excel.
Track your family finances in this monthly Excel budget spreadsheet which is a simple Excel template where you enter your financial transactions in monthly registers and then view Excel budget reports.
Family budget spreadsheet key features: (watch video  below for overview)
Keep track of income and purchases by entering your income and spending as transactions in the Excel registers. There are 12 registers, one for each month of the year.
The family budget spreadsheet allows you to create your own income and expense categories so you can customize the category names to fit your financial situation.
In the Excel registers, you can split transactions among different categories so that you can more accurately budget your spending. The family budget software allows you to split a transaction into different categories whether they are income categories or expense categories.
You can sort the register transactions by date and you can use the filters to filter and search transactions in the registers.
The personal finance dashboard contains summary data that help you save time and save money by allowing you to compare budget vs actual spending and also see trends in your data to help you make financial decisions. 
The family budget spreadsheet dashboard is automatically calculated using Excel formulas and Excel VBA programming and summarizes the financial data from the transactions that you entered into the registers.
Example of the money dashboard charts include a chart of monthly budget vs monthly actual for the entire year.
The family budget template has custom reports where the user can create amazing reports using Excel pivot tables.
The family budget planner is an easy to use Microsoft Excel spreadsheet file that can benefit any family that is trying to determining how to create a budget and stick to their monthly budget. The simple family budget planner helps you save time because all of the chart and reports are atomically calculated. Don't let fear of budgeting stop you find taking control of your finances by using this monthly family budget spreadsheet to manage your money in Excel. The reports and charts and register transactions in the monthly Excel family spreadsheet.
The family budget spreadsheet is for anyone whether they are single with no kids or a husband and wife with 8 kids.
System Requirements: 
PC with Excel for Microsoft 365 (Excel for Office 365) (part of Microsoft 365 subscription / Office 365 subscription) or Microsoft Excel 2021
Mac computer with Excel for Microsoft 365 for Mac (Excel for Office 365 for Mac) (part of  Microsoft 365 subscription / Office 365 subscription) or Microsoft Excel 2021 for Mac
The monthly budget template is supported in the United States, Canada, and Australia as the amounts are formatted with the $ symbol and dates are formatted as MM/DD/YYYY.

The PC Windows computer or Mac computer should have minimum 3 GHz processor, 8 GB RAM and SSD storage. The family budget spreadsheet planner (Georges Monthly Budget Spreadsheet v8 requires these computer specs to work properly due to large amount of Excel functions, VBA code and formulas.
The monthly budget spreadsheet is not compatible with Google Sheets (Google Spreadsheets)
The Excel monthly budget template is not compatible with Microsoft's free "Excel Online" app that is part of the free Office Online apps. These online apps are web browser based and have limited features compared to the full desktop version of Microsoft Excel.
License Terms:

By purchasing you agree with the License Terms / Terms of Sale.

Excel is a registered trademark of Microsoft Corporation
View full details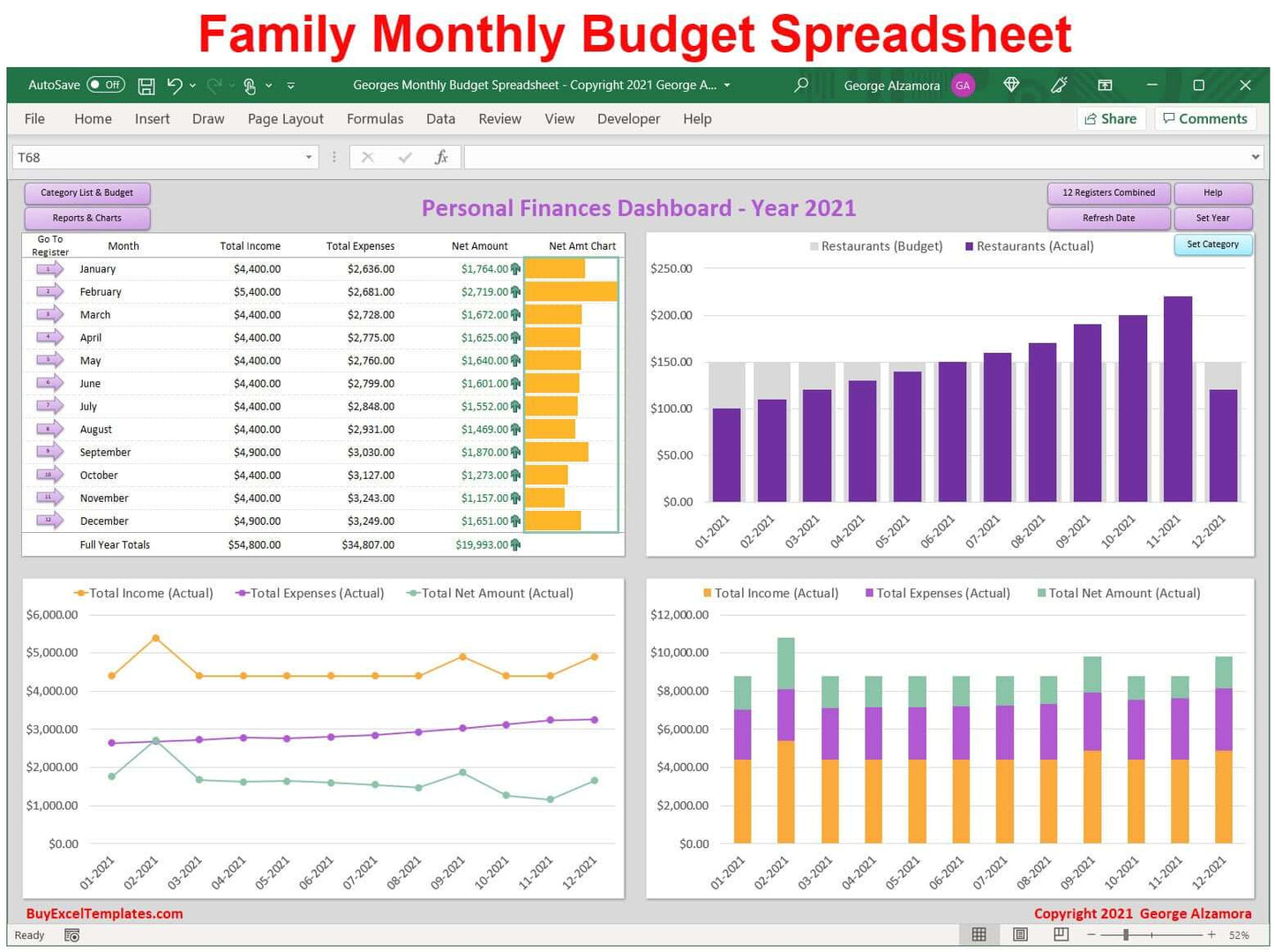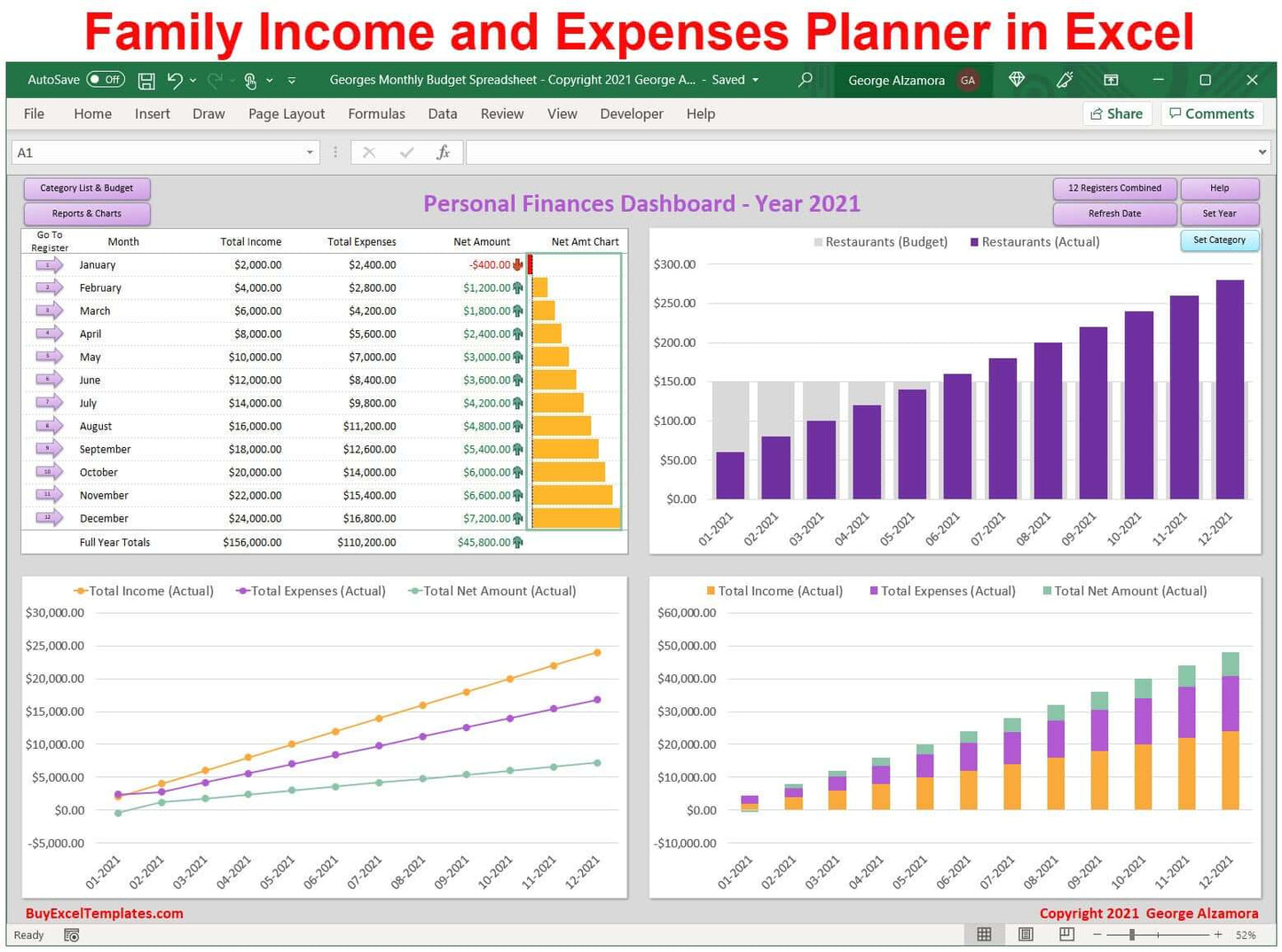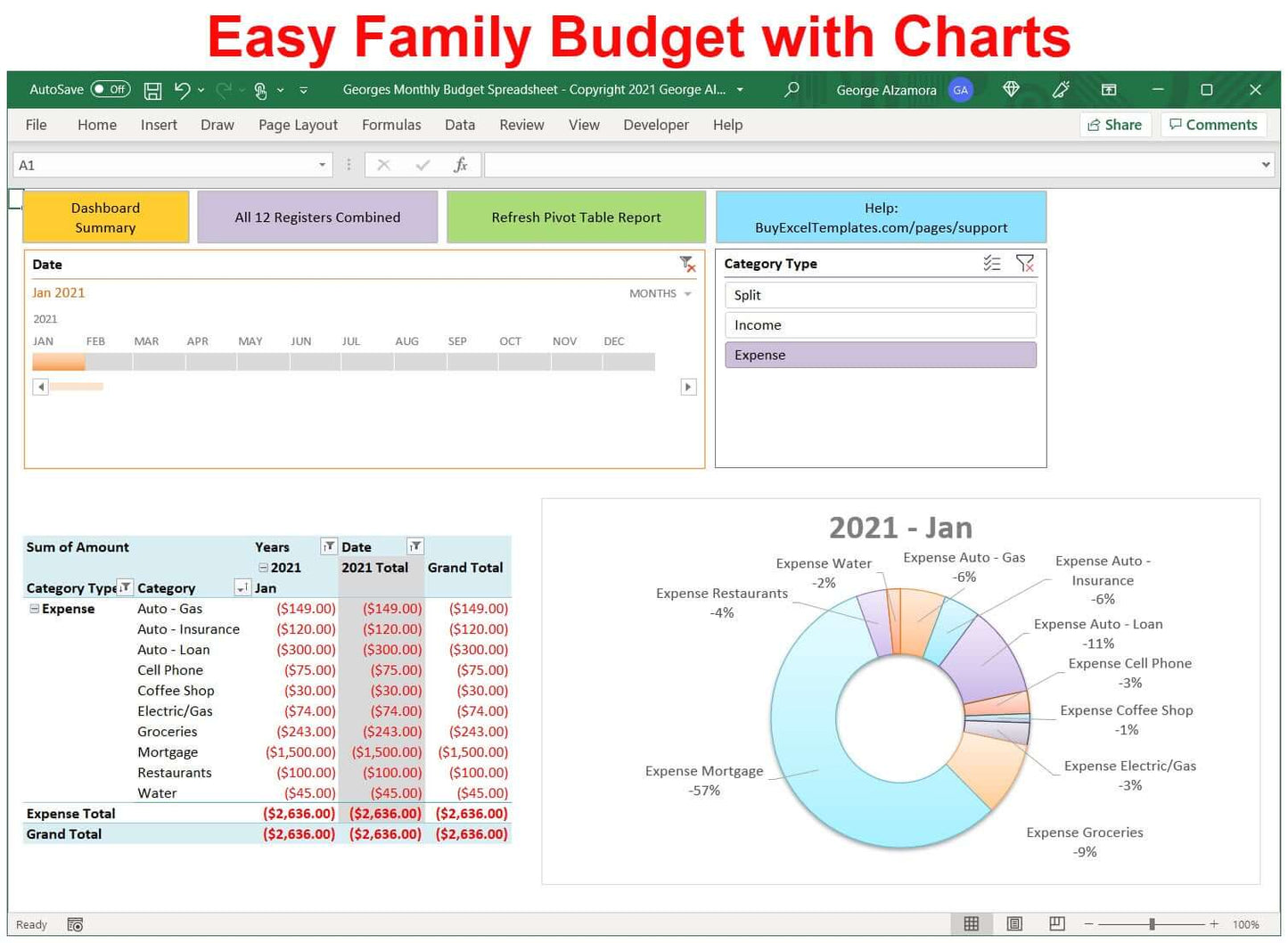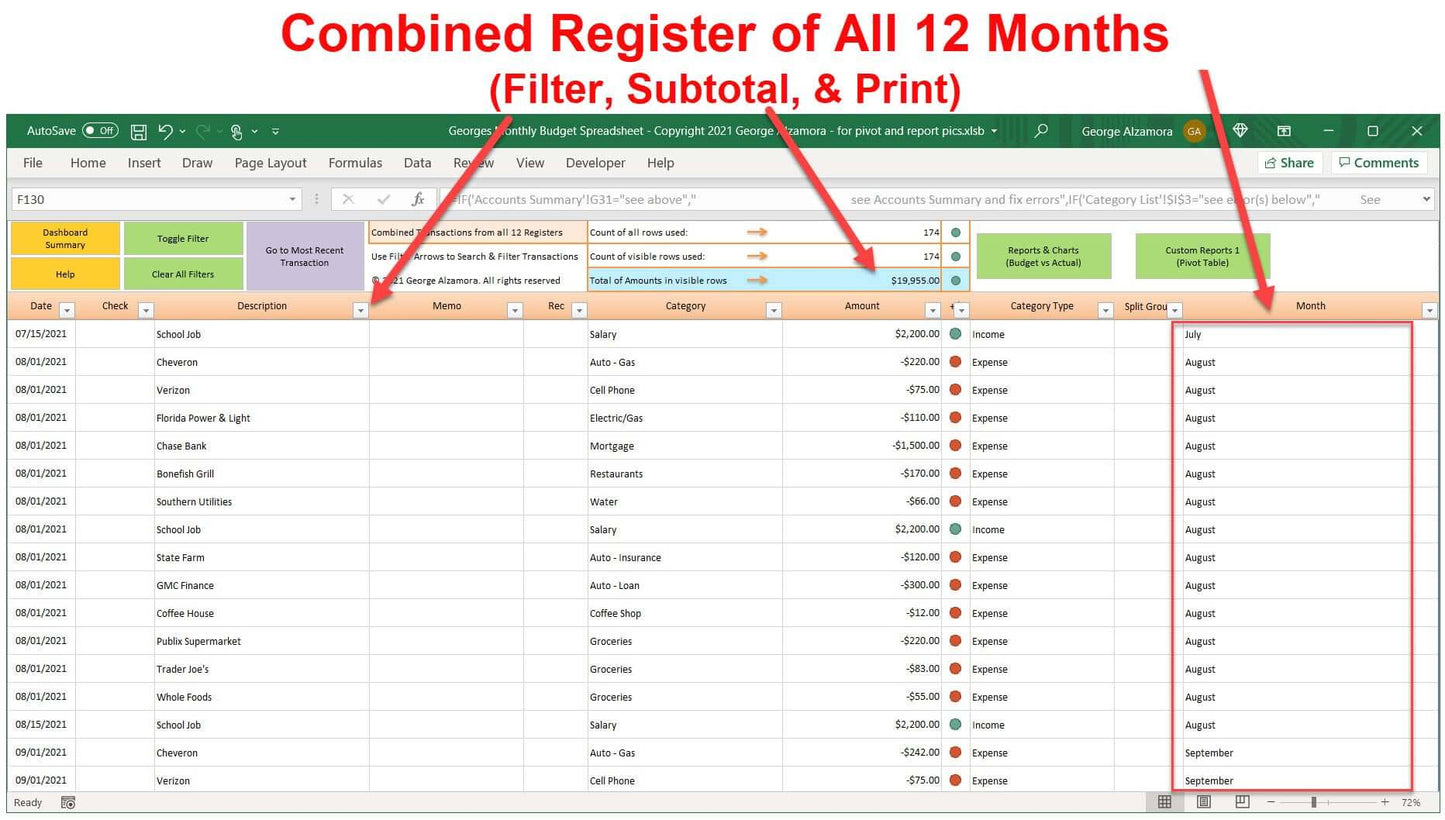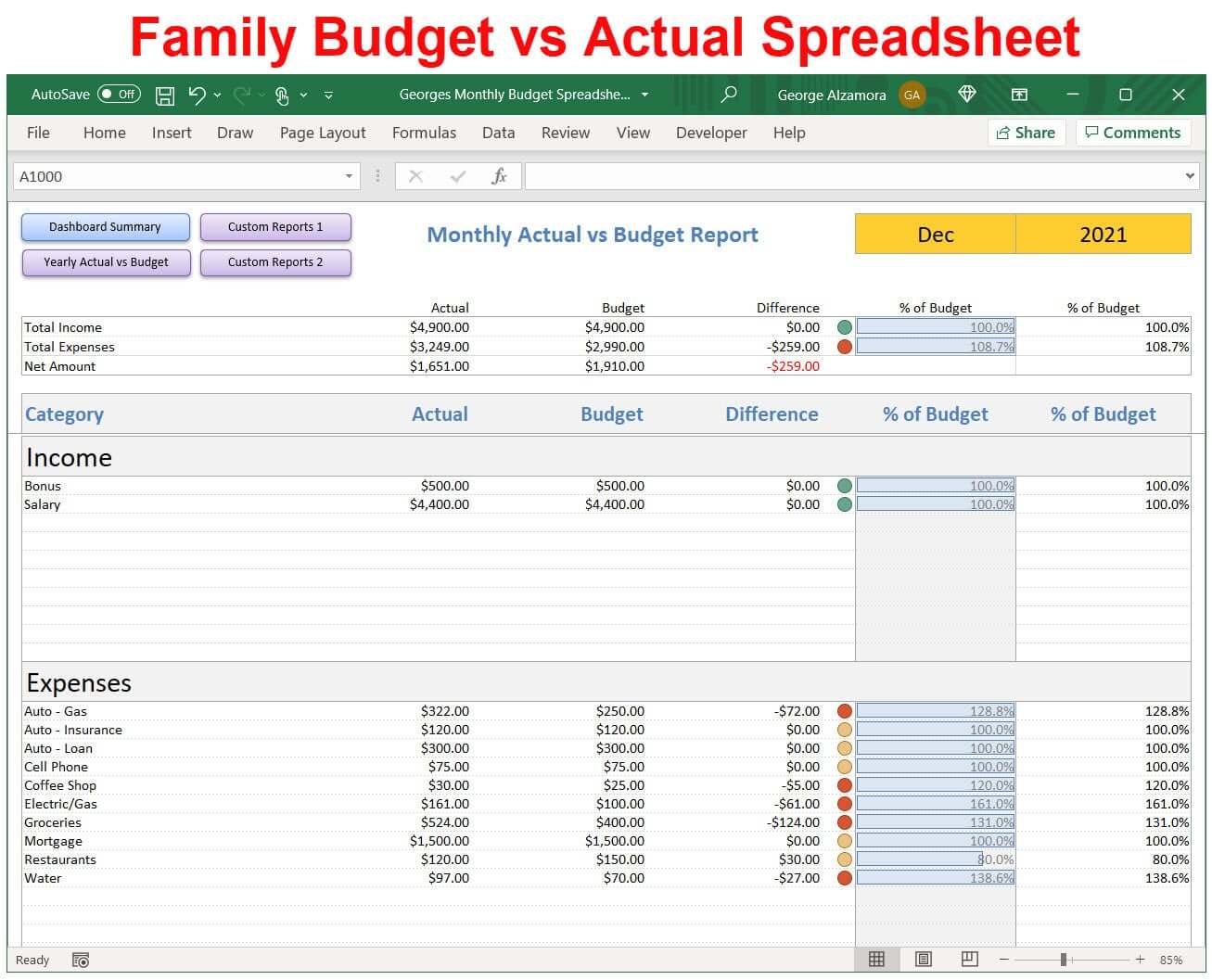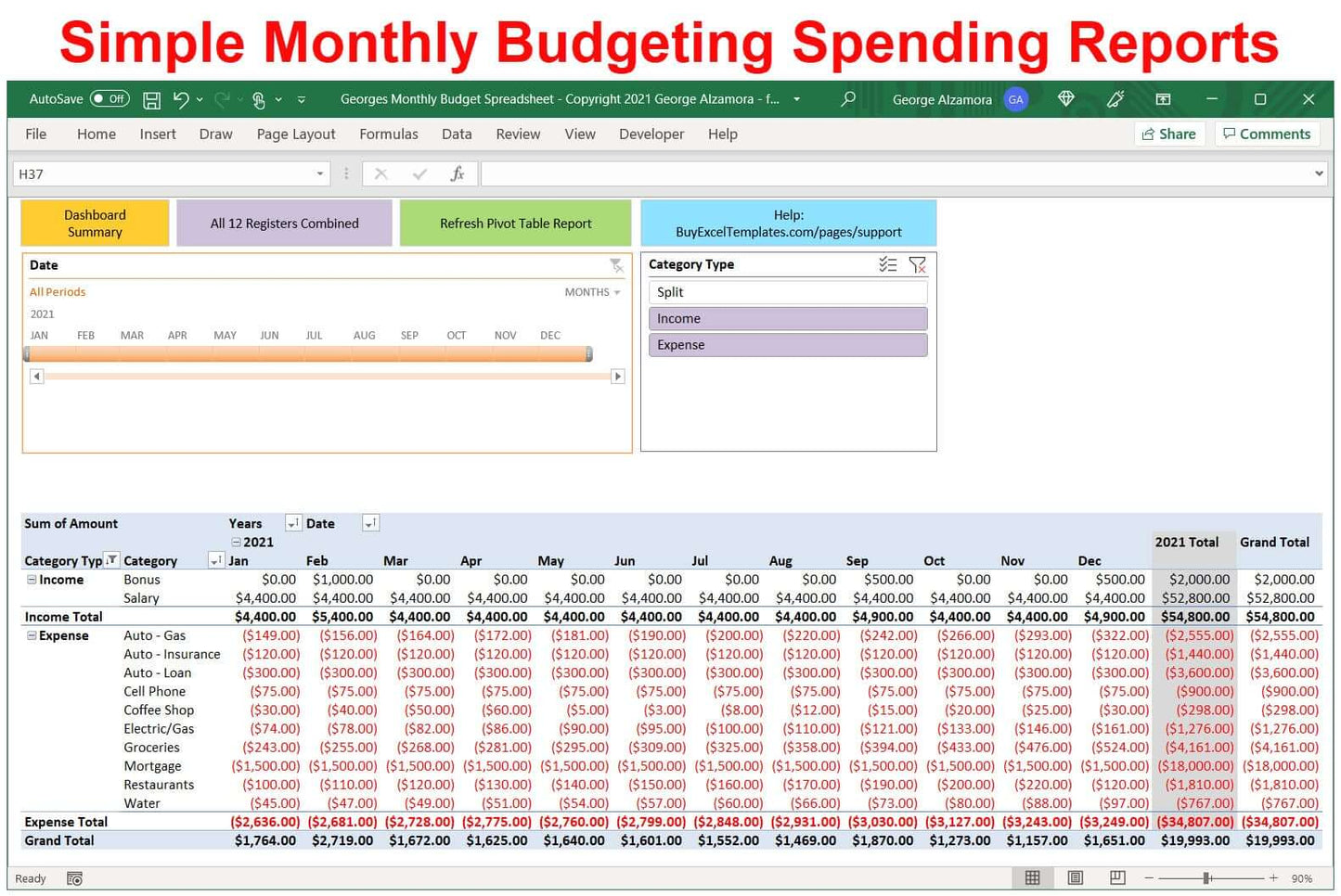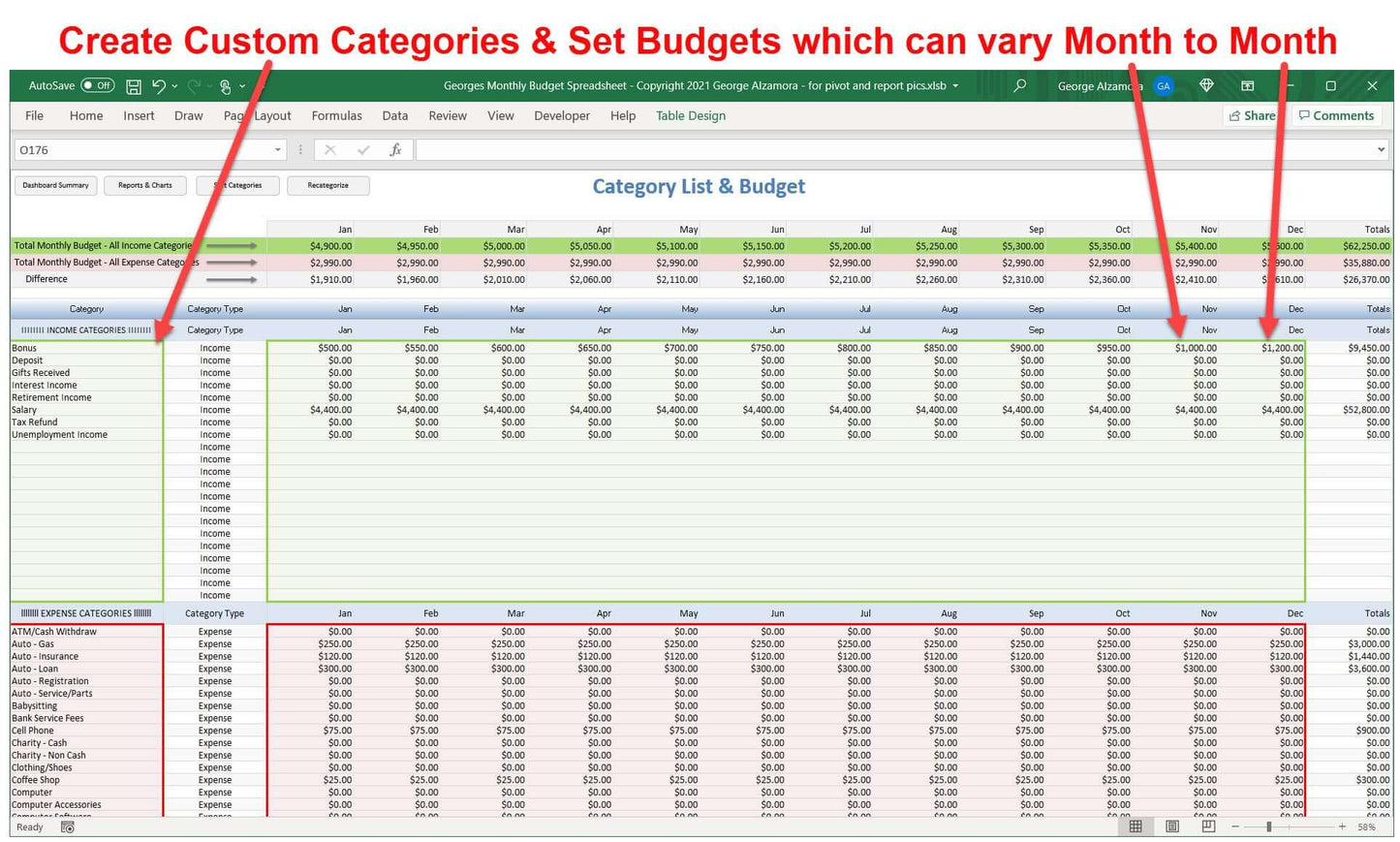 Add to Cart: Select an Option ↑
Video: Family Budget Spreadsheet Planner